Amazon.com is keeping up the pressure on competitors in the electronic book market and will launch on July 7 a new version of its Kindle DX that features a better screen and costs $110 less than the current model.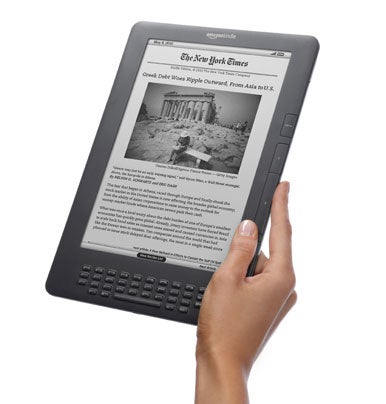 The new Kindle DX has a 9.7-inch screen that offers 50 percent higher contrast than the current model, said Amazon. That will mean a better distinction between black and white areas of the screen and should make it easier to read. It will cost $379 and includes wireless 3G access at no extra cost.
The lower price both creates a wider gap between it and Apple's recently launched iPad, the cheapest model of which costs $499, and reduces the difference between it and Sony's Reader Daily Edition. The Sony device costs $349 but has a smaller 7.1-inch screen.
In recent weeks competition has pushed Amazon and some of its competitors to lower the price of e-readers with smaller screens.
In late June, Barnes & Noble cut the price of its Nook reader to $199 from $259 and introduced a new model priced at $149. Amazon responded the same day and cut the price of the Kindle 2 by $70 to $189. Other competitors in the space include the Kobo from book-retailer Borders and Sony's Reader Pocket Edition and Touch Edition.