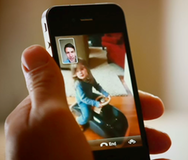 The truth behind the iPhone 4's reception problems may still be shrouded in mystery, but one thing is loud and clear: the public's desire for answers. Given the amount of discussion the issue has caused, it's no surprise that the dispute has entered the legal realm—the only real surprise is that it took a whole week for angry consumers to get litigious.
As of Thursday, at least four cases, all seeking class action status, have been filed so far in Delaware and California. All appear to be seeking punitive damages and an injunction against the continued manufacture and sale of the phones until the problem is fixed.
Gizmodo reports that the Delaware case against Apple and AT&T was filed in a District Court on Wednesday by Ward & Ward, PLLC and Charles A. Gilman, LLC on behalf of two individual users, Kevin McCaffrey and Linda Wrinn. It also angles for class action status for the 1.7 million iPhone 4 owners who may be similarly plagued.
Of the nine charges leveled against the defendants in that case, seven target AT&T and all nine apply to Apple: general negligence; defect in design, manufacture, and assembly; breach of express warranty; breach of implied warranty for merchantibility; breach of implied warranty of fitness for a particular purpose; deceptive trade practices; intentional misrepresentation; negligent misrepresentation, and fraud by concealment.
Included in the Delaware complaint are the by-now famous comments attributed to Apple CEO Steve Jobs in an e-mail exchange with a customer, in which Jobs suggests not holding the iPhone in a fashion that might cause reception problems. Also mentioned is a report by blog Boy Genius Report from earlier in the week containing what purports to be Apple's procedures for dealing with customers who complain about reception issues; those instructions include the prohibition on distributing free bumpers and not providing warranty service unless the problem persists when user is not holding the phone.
Bloomberg, meanwhile, reports that two cases were also filed by individual users in a District Court in San Francisco, one of which requests free bumpers be provided to all users or Apple's compensate afflicted users for bumpers already purchased. And AppleInsider has the details on a class action suit covering 11 plaintiffs filed in a U.S. District Court across the bay, in Oakland, CA. The plaintiffs in that case are being represented by the firm Kershaw, Cutter, and Ratinoff, LLP which earlier this week said it was investigating the iPhone 4 reception issue.
This is hardly Apple's first time around the block in the class-action arena and there's no indication that the company has any intention of crying "mea culpa" anytime soon, especially as iPhone 4 sales appear to be continuing apace.
Even so, the launching of four simultaneous suits—and the likelihood of more to come—combined with increasingly vocal complaints from users across the Internet may prompt Apple to reconsider its stance. Recent reports, including more alleged Jobs e-mails, suggest that a software fix may be on the way, and it certainly seems as though Apple needs to clear up the situation—and the iPhone 4's reception—posthaste.