At a Glance
Expert's Rating
Pros
More content for less money than cable
1TB of storage
Cons
Software interface needs to be simplified
Reception is occasionally glitchy
Our Verdict
Sezmi's over-the-air TV service shows lots of promise as a less-expensive alternative to cable, but some rough edges still need smoothing.
Sezmi has the perfect pitch for people who are fed up with cable: Why pay for all those channels you never watch when you could get slimmed-down subscription television for less? By offering what is essentially over-the-air TV on steroids combined with Web video, Sezmi bypasses the traditional fiber route with more programming than you'll ever get through rabbit ears.
The service works a lot like broadcast TV, pulling in signals over the air with an antenna box, but it receives additional broadcast channels such as Comedy Central, CNN, and Discovery, and can record them all with an included DVR. Sezmi has arrangements with local broadcasters, which deliver the programming on otherwise unused portions of the wireless spectrum. Web video and on-demand offerings, using your existing Internet service, supplement the broadcast channels.
The costs
As someone who cut the cable cord more than a year ago, I'm the perfect test case for Sezmi, which is currently available in Boston, Detroit, Ft. Lauderdale (Florida), Houston, Kansas City (Missouri), Los Angeles, Miami, Orlando (Florida), Phoenix, Portland (Oregon), and San Francisco. Nationwide expansion is coming later this year as either a stand-alone service or in partnerships with telecommunications companies. I don't watch enough television to justify Time Warner Cable's $53-per-month service—which doesn't even include a DVR—but broadcast TV sometimes seems too limited, even when paired with all the video available on my trio of game consoles.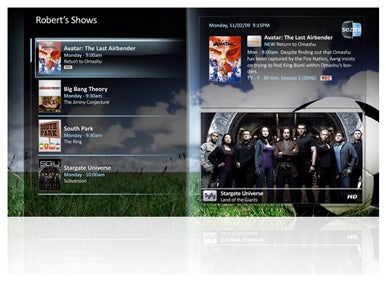 In Los Angeles, Best Buy sells the necessary hardware for $300. Beyond that, there's the basic service, called Sezmi Select, which costs $5 per month. It provides the same channels that you get with an antenna, but also includes a DVR, YouTube, video podcasts, downloadable movies, and shows on demand. A higher tier, Sezmi Select Plus, costs $20 per month and includes roughly two dozen channels ( see the full list). A third tier with even more channels (including the all-important ESPN), to be dubbed Sezmi Supreme, will arrive later this year for $30 to $35. Sezmi says its channel lineup covers 90 percent of what people watch.
After a year without cable, Sezmi seems like a revelation. Even the ability to record basic broadcast television makes a huge difference in the amount of material available. Do you go to bed too early for Letterman or Leno? Catch them the next day on your own schedule. Have an urge to watch Avatar but don't feel like driving to your supermarket's Redbox DVD rental kiosk? No problem. If you still think the selection on Sezmi's highest tier isn't wide enough, you're just a TV junkie who needs cable. HBO and Showtime fans would fall into this category, as Sezmi has no shows from the former and hardly any from the latter.
Overall, Sezmi nails the cheaper-than-cable concept. It's just too bad that the execution suffers from flaws in the interface, clunky hardware, and occasionally subpar broadcast quality.
Open(ing) Sezmi
Opening the box might intimidate some nontechies. The package includes three main hardware components to connect: the antenna box (which measures 11 inches tall and 8 inches wide and deep), a standard-looking DVR, and a smaller tuner module that runs between the other two boxes. The setup also includes two ethernet cables, two power cords, and a couple other connectors. I dare anyone to install Sezmi without rearranging their entertainment center to hide the clutter. On the bright side, clear instructions for both the hardware and software demystify the experience. I was watching television in about 25 minutes.
On startup, Sezmi asks you to create profiles of your favorite channels, genres, and shows. The information feeds a recommendation system that grows as you watch more shows, and appears in a main section of the interface called "My Shows." Sezmi records some programs automatically to this section, and lists others that are either airing live or available for purchase. On Sezmi's remote control, four dedicated buttons allow for quick swapping between profiles, and you can reach additional profiles through a menu in the software. You can tie parental restrictions to each user profile.
"My Shows" is a nice thought, but it's too prominent. Instead of an algorithmically generated program guide, I'd rather see a clean and simple list of all recordings, sortable by name, genre, or date—but Sezmi's master recording list is not that robust, and the arrangement of titles is messy. To fix this problem, Sezmi needs to get out of the way and let the content speak for itself. The recommendation system doesn't have to die, but it should be pushed to the margins, available at the end of a program or upon request.
The interface also suffers from redundant or confusing features. For example, Sezmi has a menu section called "Zones," where channels can host their own individually branded spaces. They're hard to reach and slow to load, and they don't contain anything you can't find elsewhere in the interface. When you're watching a show, you may choose to record the entire series or say "Loved it—get me more." Sezmi told me that the latter option finds similar programming and pushes the show in question to the top of your recommendations, but the interface doesn't make that clear to the user. Finally, Sezmi's designers omitted any way to jump directly from one episode of a recorded show to another, making marathon sessions of your favorite serial drama just a little more inconvenient.
Confusion carries over to the hardware. Sezmi's remote has fewer buttons than a typical cable setup, but it isn't free of clutter. The Record and OK buttons accomplish the same task of calling up options for the show you're watching, and the Guide and Zoom buttons both bring you back to a list of broadcast channels. Meanwhile, the remote has no "take me to live television" button, which would really come in handy.
TV picture quality
As for the quality of the broadcast signal, it's a mixed bag. High-definition channels look stunning, even more vibrant than my rabbit-ear signal, but premium channels are not in HD—even ones that have HD counterparts on cable, like Discovery and Comedy Central—and it shows. I also noticed an occasional glitch in the signal, as you might see when blocking a DTV antenna, even on my fourth-floor apartment near the balcony.
On-demand video can also look either really sharp (HD movies are available for purchase or rent) or just mediocre. I watched a free episode of The Office in such low resolution that it played in a smaller window than my 40-inch TV screen, but Avatar looked so good that I was immediately compelled to sit down and watch, thereby delaying the completion of this review. These videos are downloaded, not streamed, but you can start watching before the entire download is complete.
Despite the problems I had with Sezmi, I still loved my time with it, simply due to the breadth of programming available and how little it costs. As a cable cutter, I think Sezmi provides almost everything I want from subscription television at a fair price.
Macworld's buying advice
My biggest issue with Sezmi is not related to the hardware or software, but to the service's lack of firm footing in the market. If Sezmi proves unsuccessful and goes under, tough luck on that $300 hardware investment. That risk may be hard to stomach, but I hope enough people realize that it takes less than a year on the middle tier of Sezmi to make up for the hardware cost and to start saving over cable. To fix its shortcomings and become a real subscription-TV powerhouse, Sezmi deserves at least that long.