We are knee-deep in the age of music mash-ups and remixes, where anyone with a digital music collection and some computer software can act like a producer or deejay. Musicshake provides further fuel for your music ambitions by letting you create tracks from hundreds of pre-recorded sounds and effects, not unlike a pocket-size audio editor.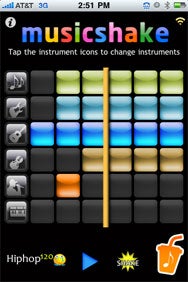 Each time you launch $5 app from Musicshake, a prompt will encourage you to shake your iPhone, iPod touch, or iPad to create a randomly compiled track. (iPad users: The app hasn't been optimized for your device, so it'll run in 2x mode.) You can go for it, but if you pause for a moment, you'll notice a button in the bottom right-hand corner that lets you first pick a musical theme.
For whatever reason, the only choices of musical genre are hip-hop and R&B, but there are 12 combinations of slow, fast, bright, or dark tempos for a little more dimension. Once shaken, a grid of six color-coordinated rows of sound effects appear over six columns.
This effectively breaks each track down into six individual instruments and six sections of time to arrange them in. Tap colored squares to remove sounds, and tap gray squares to add them. Each shake will choose six instruments randomly, but you can change them, choosing from drums, strings, some pre-arranged woodwind melodies, even a rapper and a singer.
Musicshake is definitely nice to look at and packs hours of replayability. Unfortunately—and specifically where the rappers and singers are concerned—the app can get a little cheesy. The rappers go on about nothing while the singers drag out each note with wince-inducing melodrama.
It's appealing to construct your own songs, but I personally wouldn't want to listen to any of these on my iPod or use one as a ringtone, though both are options if you're so inclined. There are 10 in-app slots for finished tracks; you can also share your creations on Facebook and post them to the Musicshake charts for other users to listen to. (A free version of Musicshake doesn't feature the ability to create ringtones and also limits the number of instruments and vocals; you also can't save a finished track.)
The best things about Musicshake are its versatility and endless creative options. Overall, it's a well-executed app and sure to please anyone interested in music mixing. But for $5, I would expect higher quality samples to work with.
[Meghann Myers is an editorial intern at Macworld.]