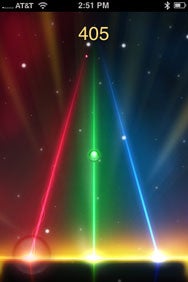 Might we soon see Tap Tap "Radio Disney?" Media giant Disney announced Thursday that it had bought mobile app maker Tapulous, confirming earlier reports from Mashable and TechCrunch that an acquisition was imminent.
Tapulous is the maker of the popular Tap Tap rhythm franchise. The first title, Tap Tap Revolution, appeared as a jailbreak application for the iPhone in late 2007; a subsequent version, renamed Tap Tap Revenge, went on sale in the App Store when the storefront debuted in 2008.
Tap Tap Revenge went on to become one of the most popular iPhone games— according to one report, it was for a time the most popular app, period. Tapulous has since then created more than 20 other applications, many of them Tap Tap titles with content from musical artists such as Coldplay and Nine Inch Nails.
According to a statement provided to Macworld, Tapulous will become a wholly owned subsidiary of The Walt Disney Company, reporting into Disney's Interactive Media Group. Tapulous founders Bart Decrem and Andrew Lacy will join Disney Interactive Media Group's mobile games and content group along with the rest of the Palo Alto, Calif.-based Tapulous development team; Decrem and Lacy will have leadership roles in the group, Disney announced.
"By joining Disney, we will be able to continue to excel in this evolving industry and more quickly realize our vision to lead the mobile, social entertainment revolution," Decrem said in the statement provided to Macworld. "With Disney's powerful breadth of content and heritage in technological innovation, they are the perfect partner for Tapulous."
Updated at 3:25 p.m. PT to confirm Disney's purchase and add a statement from Bart Decrem of Tapulous.