At a Glance
Expert's Rating
Pros
Portable
Flexible tripod augments iPhone's built-in camera
Free App Store download extends accessory's usefulness
Our Verdict
Whether you're using a big SLR camera, a pocket-sized point-and-shoot, a Flip video camera, or an iPhone, there comes a time when it's helpful to have a tripod to help set up a shot—a hike, say, or a family gathering. But as useful as it may be to have a tripod when you want to take a picture, they're not so practical to carry around the rest of the time due to their size and weight.
Joby addressed this problem years ago with its popular Gorillapod line. The Joby Gorillapod is a small, flexible tripod whose legs are made of series of interlocking round joints. This flexibility allows them not only to act as traditional straight leg tripods, but to be bent, twisted, and wrapped around other objects. Using a Gorillapod, you can mount a camera on a small tree branch or a fence post, for example.
That functionality is especially appealing to iPhone owners, who can use the app's built-in camera to take pictures and, with some models, shot a video. So Joby has produced an offering that takes the basic concept behind the Gorillapod and shrinks it down to the iPhone's size.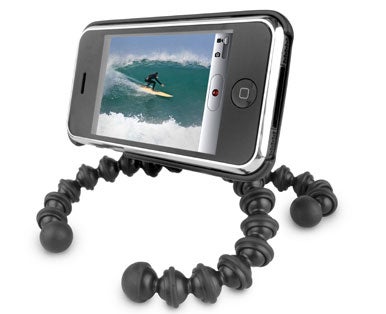 The $40 Gorillamobile package for the iPhone 3G and 3GS, includes a small Gorillapod (which is just a little taller than the iPhone itself), an adhesive clip that can be mounted to the phone, and soft-touch hard plastic case for the iPhone. The case is what really makes the system work.
Joby's original iPhone solution only included an adhesive clip to connect to the iPhone. This was a non-starter for me as I didn't want to affix anything to the phone itself. The updated Gorillamobile with the hard case is an excellent solution. The case itself snaps onto the iPhone like any protective case you're used to, and is just slightly thicker in the back. On the back of the case, a molded mounting point gives the Gorillapod a place on which to securely attach itself. The head of the tripod makes a click to let you know it's attached, and there's a button that can be released to remove it. (As a bonus, the Gorillapod also acts as a great stand for watching movies on the iPhone as well.) The case itself is very unobtrusive. I found that I could easily leave it on as long as I needed.
I recently went for a short hike with my wife, and I was able to keep the iPhone (in the case) in one pocket, and the Gorillapod in the other without feeling like I had added any noticeable weight. When we got to a overlook, it took a few seconds to set the iPhone in the tripod, mount it on a railing, and take a quick snap of the two of us.
The process of taking the picture is handled by the software compliment to the Gorillamobile system—the Gorillacam iPhone app. This free app provides a number of very helpful features that aren't otherwise available in the iPhone's Camera app—the most useful of which, in this case, is a self-timer. With your phone attached to a Gorillapod and Gorillacam installed, you can set the self-time and make sure you're still in the shot.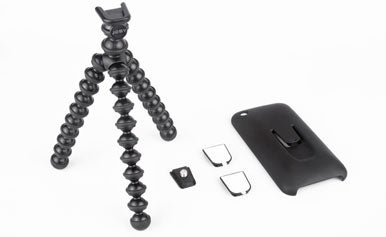 Gorillacam offers a number of other helpful features like time-lapse capture, grid-overview, and bubble level. The Gorillacam app is simple to use, and has a nice clean look and feel. It stands nicely on its own as a helpful camera app for the iPhone, but when you combine it with the rest of the Gorillamobile system, you've got a great mobile photography solution.
As the iPhone camera continues to improve, taking nice, planned photos and video with the iPhone is becoming more and more popular. (I find myself reaching less for Flip or point-and-shoot when I have my iPhone in my pocket). The Gorillamobile system is a solid and reliable. Its size lends itself to easily being thrown in your bag or pocket. You never know when it may come in handy, and it's a great way to extend the photo- and video-taking ability of the camera you usually have with you at all times.
[Macworld contributor Beau Colburn lives in Boston where posts some of his favorite iPhone photos at Snap different.]