Gorillacam is a free iPhone app by Joby, which makes the popular Gorillapod bendable tripod for cameras. The iPhone app complements the company's Gorillamobile system, which includes an iPhone-sized portable Gorillapod and case.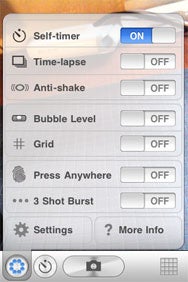 Gorillacam gives you the ability to utilize some needed features when taking photos with a mounted camera. Automated methods of releasing the shutter on the camera—such as a self-timer and time-lapse—are the core features of the Gorillacam app. While most standard cameras have a built-in self-timer function, the iPhone doesn't. When you set up your iPhone using a Gorillapod, you'll still need a way to take photos automatically—that's where Gorillacam's self-time and time-lapse functions prove valuable.
The app is very simple and easy to use. When you launch Gorillacam, it looks almost identical to your phone's built-in camera app, only with a new button on the lower left. When you tap the button, a menu pops up that allows you to choose what type of shot you'd like to take, and whether or not to add some helpful options. A bubble level and grid help you take properly aligned shots, and an anti-shake feature (with three levels of sensitivity) helps you capture the most crisp shot possible.
Gorillacam's two main shot types are Self-Timer and Time-Lapse. When you choose either of these options, another button appears next to the shutter release that allows you to set the self-timer delay (from three to 90 seconds), or the number of frames to be captured in the time-lapse (from three shots to infinity, with an interval of one to 120 seconds in between shots).
There is one more option that is available on all shots: Press Anywhere. This is a common feature with a lot of iPhone camera apps that allows you to touch anywhere on the screen—not just on the release button—to take a shot. However, the iPhone 3GS also allows you to tap anywhere on the screen to selectively focus on that area. To avoid any confusing commands, Gorillacam supports the tap-to-focus feature on the 3GS, but if you select the Press Anywhere option, tap-to-focus gets overridden. If you're not aware that you've disabled tap-to-focus, you can wind up taking a bunch of photos without realizing it.
Gorillacam aims to be an extension of the physical Gorillamobile product, but there are enough helpful options that it's a useful app on its own. When you combine the features of the app with the expanded possibilities that the Gorillamobile kit provides, it's a super combination for the iPhone photographer on the move.
[Macworld contributor Beau Colburn lives in Boston where posts some of his favorite iPhone photos at Snap different.]