Broadway and Theater—TheaterMania is a free app that guides you to live theater, as well as other live performance events. You don't necessarily have to be Broadway-bound to get some use out of this app— TheaterMania promises national and international listings, though that focus has its limitations.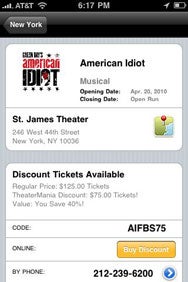 The app's main screen displays three different location options—Broadway Shows, Shows Near Me, and Browse by Location—that, when selected, give you seven other search options, such as Off-Broadway shows and genres likes comedies and dramas. Selecting a location option displays the shows currently running in that area, with the name of the theater where the show is playing and, if applicable, the show's run dates.
Tapping one of these shows displays more detailed information about the show, including the schedule, a brief synopsis, and links to discount tickets if they're available and other box office information. Ticket purchases are handled using Safari and the TicketMaster Website.
One of the features that I hoped would work out better than it did was the Shows Near Me button, which I thought would be able to locate shows playing at regional theater and music venues. Unfortunately, even though there are a number of venues in my area, many of which offer headline musical acts and professional theater companies, I wasn't able to locate anything playing at these locations. So it appears that TheaterMania, at least for now, is designed only to help you find shows playing in selected major metro areas.
[Jeffery Battersby is an IT Consultant, (very) smalltime actor, and regular contributor to Macworld. He writes about Macs and more at his blog.]