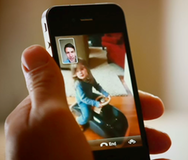 And lo, Cupertino speaks at last. Responding to numerous complaints and criticisms about poor cell signal reception on the iPhone 4, Apple has issued a letter on its Website saying that the fault is due not to hardware design, but to the algorithm used to calculate bars of reception.
The problem, which has been widely reported since the phone's debut last month, results in a loss of signal strength when certain areas of the external antenna are gripped in the human hand. At the same time, however, many users have also reported better signal strength with the iPhone 4 than previously, with some able to make calls in places that had previously had no signal.
Those conflicting reports of both signal loss and signal improvement prompted Apple to investigate the problem, which the company says is the result of a "totally wrong" formula that displays a stronger signal than actually exists. "For example," says Apple, "we sometimes display 4 bars when we should be displaying as few as 2 bars."
According to Apple, the attenuation caused by holding the phone is likely because the signal strength in a given area isn't very strong to begin with; those fourth and fifth bars never really existed. That said, Apple also acknowledges that all phones suffer from a certain amount of signal loss when gripped in certain ways, including previous models of the iPhone.
To fix the issue, Apple will release a software patch within the next few weeks using a new formula based on one recommended by AT&T. While obviously this won't change the strength of the signal, it will apparently better reflect the actual reception. In additions, the first three bars will be taller, which will help their visibility. The patch will be available for the iPhone 3G and 3GS as well, since Apple says the problem dates back to the original iPhone.
Despite Apple's promise, there are lingering questions. If the issue is really only one of the accuracy of the displayed bars, then what explains the related performance problems some users have encountered? The only explanation I can come up with is that the iPhone's software somehow looks to the signal strength as a way of throttling data—and thus, when it sees no strength, it throttles data to zero. That seems counter-intuitive to me, but as a non-engineer, perhaps I'm missing something.
But it's a good thing Apple has addressed this issue, especially in light of the legal action that has been launched on many fronts. Whether or not the company's answer is satisfactory will of course depend on if the patch actually fixes users' problems. And for that, we'll have to wait.
16GB iPhone 4 (GSM, AT&T)
Price When Reviewed:
$485
32GB iPhone 4 (GSM, AT&T)
Price When Reviewed:
$599