Nokia still sells more phones than Samsung, LG and Research in Motion (RIM) put together, but its inability to produce high-margin, high-end smartphones that can compete head-to-head with Apple's iPhone and Android-based smartphones is causing it major problems.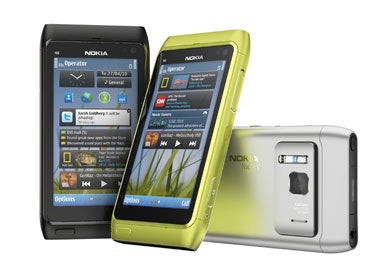 Since April 22, when Nokia announced its first quarter results and the delayed launch of its first competitive smartphone in over three years—following that up in June with a lowered outlook for the second quarter—the company's share price has almost been cut in half on the New York Stock Exchange.
The company's status stands in stark contrast to the end of 2006, when Nokia dominated the market—even though it was criticized for a lack of slim phones—and was gearing up to ship its most iconic product yet, the N95. However, 2007 was a year that would shake the mobile phone market to its core. In January, Steve Jobs unveiled the iPhone and in August Google announced Android.
Nokia was getting complacent and its first mistake was not taking the iPhone and Android seriously early on, according to Nick Jones, vice president and distinguished analyst at Gartner.
Nokia completely underestimated the impact that the iPhone was going to have on the market, according to Ben Wood, director of research at CCS Insight. So did most of the telecom industry, but matters were made worse for Nokia when it took too long to realize that the Symbian OS, with its lack of a user interface for touchscreens, was a big problem, Wood said.
In June 2008, Nokia made its first big move to turn around the platform, and announced that it was acquiring Symbian, with the intent of turning the OS into an open source project.
Two years later, the move to open source has proved to be a miscalculation that is slowing down Symbian's development. It would be better for Nokia to take full control of the OS, according to Wood. A lack of support from other vendors means Nokia has to do most of the work itself, while the open nature of the platform allows competitors to keep a close eye on its progress.
On Thursday, Nokia's latest reorganization went into effect. It divides the company structure into three units: Mobile Solutions, Mobile Phones and Markets, and aims to accelerate the development of new phones and services.
Nokia is now working hard at getting the N8 handset—which is based on Symbian 3, the first version of the OS that has been developed for smartphones with touchscreens—ready for its third quarter launch date.
Originally, the N8 was supposed to show up in stores during the second quarter. Nokia delayed the release to get the quality right, it said in April, but the delay gave Nokia a lot of negative attention and tanked its stock price. On the other hand, to rush the N8 out—and have a repeat of the fiasco of the N97, slammed for bad performance and subpar software—would be the worst possible thing to do, according to Wood.
"Nokia has to get the N8 out there, and prove to the world that it can make a good quality, high-end phone … and restore some faith in the company," said Wood.
Symbian 3 is a step in the right direction, but it will not fix all user experience problems, and isn't as radical as it should be, according to Jones. That will more likely happen with Symbian 4, and smartphones based on that version won't arrive until 2011, he said.
Nokia is still bullish about its prospects in the high-end smartphone sector. Company officials were not available to comment for this article. But company veteran Anssi Vanjoki — who took the helm of Nokia's Mobile Solutions group as part of the reorganization — is committed, perhaps even obsessed, with getting Nokia back to being number one in high-end devices, he said in a Friday blog post labeled "The fightback starts now".
Vanjoki has been testing the N8 and believes it is going to surprise a lot of people with its power and speed. The camera and HD-quality video and deep integration with the company's Ovi services will make it "an entertainment powerhouse," he said.
Symbian is Nokia's platform of choice for Nokia smartphones, and it has no plans to come out with an Android device, according to Vanjoki.Some of the recent criticism directed at Symbian has been fair, some not, he said.
In addition to Symbian-based smartphones, Nokia is also working on products based on MeeGo, an OS that was born in February when Nokia and Intel announced they would merge the Maemo and Moblin OSes.
MeeGo will be used on everything from advanced smartphones to netbooks, connected TVs and tablet computers, the two companies said. Nokia still hasn't announced its first MeeGo-based product, but it will be delivered this year, according to Vanjoki.
Vanjoki also addressed recent reports that Nokia would use MeeGo on all future members of the N series. The N8 will be Nokia's only Symbian 3-based smartphone, according to Vanjoki. However, a Symbian 4-based N series is a very strong possibility, he said.
The problem for Nokia is that while all of this is happening, the competition is taking great strides in securing more of the high-end smartphone market, according to Wood. Also, Android is increasingly showing up on cheaper, low-end smartphones, sales of which have helped boost Nokia's smartphone market share.
Nokia's problems don't end with OSes and high-end smartphones. Apple didn't just change what users have come to expect from their phones. Developers and the applications they have provided have also played a big role in the iPhone's success.
Nokia's developer program, Forum Nokia, had been around for 10 years when Apple launched the App Store. But again, Nokia was getting complacent, according to Jones.
"Nokia has always had an exceptionally good developer support program at a technical level, but I think were it has slipped up recently is that it hasn't articulated the opportunity for developers to become rich and famous with Nokia," said Jones.
Nokia knows that it has slipped up with developers, but it will take time to correct, according to Jones. Nokia only just released the Qt SDK 1.0, and is starting to get to the point where developers can easily create applications, he said.
To attract more developers Nokia will also have to fix its application store, Ovi Store. The launch of Ovi Store — criticized for having poor search capabilities, slow provisioning of new applications and a cumbersome interface — will go down in history as one of Nokia's biggest missteps, according to Wood. Although the store has been upgraded to fix early problems and now serves 1.7 million downloads a day, it is still an area where Nokia is lagging its competitors, he said.
Fixing the developer experience isn't just about getting Nokia's own parts in place. Third-party tools are becoming an increasingly important part of the mobile application developer ecosystem, and today the vendors of these tools don't care about Symbian, according to Jones.
A recent survey by third-party tool developer Appcelerator shows the challenge Nokia faces. Ninety percent of developers surveyed said they were interested in the iPhone while 81 percent expressed interest in Android; for Symbian and MeeGo, the related figures were only 15 percent and 11 percent, respectively.
Nokia's global reach is its most attractive asset for developers, according to the survey.
Fixing all of its problems at the same time will be a tall order for Nokia, but to compete with the iPhone and Android, it has to fix the user experience on its phones, revamp its high-end smartphone portfolio and get developers behind Ovi.
"Basically I think Nokia's problems are still fixable but the window is closing. I am not optimistic that they will be fixed in 2010 because there isn't much time left, and If they aren't fixed in 2011, Nokia will be in big trouble," said Jones.