HoloSnaps from Embraceware Software takes three of your photos and turns them into holographic cards. Technically, they're not really holographic. The correct term would be lenticular cards—you know, those textured cards that show different images when you turn them from side to side. Think of it as the analog version of an animated GIF.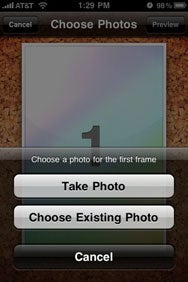 Creating your own cards is a simple three-step process of selecting the three images you want to use. After selecting an image to use, you can scale it by zooming in and out using the standard pinch gestures. You can then drag the photo around with a finger to choose what part of it to use for your card.
You can use images that you take with the iPhone's camera or ones from your photo library. When I chose existing photos from the iPhone's camera roll, everything went smoothly, but trying to take new pictures to use was another story. When I took the first picture, positioning things the way I wanted before tapping the Use button, the whole process just started over from the beginning. I never could get HoloSnaps to work with newly taken photos. Instead, I had to take the three photos outside of the application, open HoloSnaps and go with the existing photos option. I imagine this bug could be fixed in a update, but as for now, it's a no-go.
Once you have chosen the images to use, you can preview the final product and save your card to the gallery. The gallery is an attractive glass case with shelves where your creations reside. You can drag and drop your cards around and arrange them how you see fit on the shelves. To view a card, you tap it and a robotic arm swoops down to pick it up. When your card is displayed, you can tilt the device left or right to see the images transition from one to another just like a lenticular card. If you use sequential images, the effect is much like an animated GIF. The cards even have a striped texture overlaid on them so they look more like real lenticular cards.
Overall, HoloSnaps is an entertaining app. The interface is attractive and easy to use and the holo-cards are pretty cool. This app probably falls into the "use a few times and forget about it" category, but for $1, it's not a bad deal.
[Tim Mercer is a technology enthusiast, graphic designer, and blogger, whose blog, digital-artist-toolbox.com, offers free resources to the digital artist and graphic designer.]