Editor's Note: The following article is reprinted from Macworld UK. Visit Macworld UK's blog page for the latest Mac news from across the Atlantic.
Abvio has sent word that a range of its sporting and fitness apps are iOS 4-compatible after reports Nike + iPod users have been struggling after updating to Apple's latest mobile OS.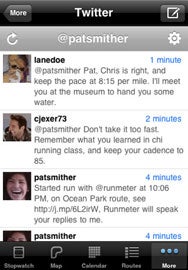 "Abvio: Cyclemeter, Runmeter and Walkmeter which haven't missed a step when upgrading for iOS4. In fact, the apps were compatible with the new OS even before it was generally available," Abvio told Macworld UK.
Official Nike+ support forums include several threads listing users problems after updating Apple devices to iOS 4 including loss of data, faulty data and sensors not connecting.
Abvio's iPhone fitness applications promise to fully leverage the new multitasking capabilities in iOS 4 and enable users to continually track runs, rides, hikes and walks, while also using any other app on their iPhone 3GS or iPhone 4.
Runmeter, Cyclemeter, and Walkmeter record location, elevation, speed and distance and voice your announcements while users answer calls, reply to texts or use the application.
According to the company, Runmeter, Cyclemeter, and Walkmeter are the first iPhone applications to incorporate text-to-speech technology so users can hear replies to their workout-related status updates from Twitter and Facebook communities. Spoken replies from friends, family, and coaches can encourage and motivate users to go farther, faster and be healthier insists Abvio.
The apps cost $5 each and require the iOS 3.0 Software Update or later.