The iPhone and iPod touch may come with contact-management software pre-installed, but the features provided in the default Contacts and Phone apps are hardly enough for most power users. For users looking for more, Fast Contacts from SpiceLoop looks to provide new and powerful features.
The strongest suit of this $1 app is its filtering capabilities. The iPhone's Contacts app has a limited search capability and no filters. Fast Contacts, on the other hand, can sort your address book based on several different fields—events, names, prefixes and suffixes, contacts with photos, companies, and various address fields. There is also an advanced search field that looks at all data stored in the address book, and not just the name and basic information that the default iPhone app searches through.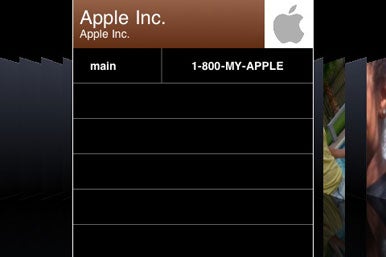 Fast Contacts reads and writes to the iPhone's contacts and can sync with MobileMe, Exchange, and Outlook using the iPhone's built-in capabilities. The app can also send out mass e-mails to groups, although groups cannot be created within the app. You can also set and filter alarms to help you more easily remember events.
One of the most touted features in Fast Contacts is the app's ability to display contacts in a Cover Flow-style view. I don't see the usefulness of the feature, but if that's what you're dying for in a contact app, it's available here. The app's color theme can also be customized from several pre-sets.
While Fast Contacts doesn't bring any revolutionary features to the contact-management game, it does bring several much-needed capabilities to the iPhone's address book management. There are other apps that do the same thing with added features, such as Groups and ABContacts. But Fast Contacts is a viable contender. This decent contacts manager is inexpensive and worth a try.
[ John Fuller is a freelance designer and writer from Texas.]