Editor's Note: The following article is reprinted from Macworld UK. Visit Macworld UK's blog page for the latest Mac news from across the Atlantic.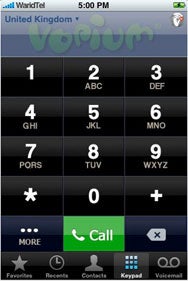 Vopium, a company that promises to drive down the cost of international mobile phone calls has released a new version of the its application for iPhone, iPad and iPod touch.
Vopium claims savings of between 50-90 percent on international calls and text messages.
With the latest version 3.0 update, Vopium provides users with a list of which contacts are online, clearly visible with a small logo, with the ability to call free any of those contacts.
Vopium users can now also chat with friends on Facebook or add them on Skype, MSN, Gtalk, AIM, Yahoo, ICQ, and Twitter. Vopium users can also receive a push notification even when someone sends them a chat message while the Vopium app is closed.
Additionally, Vopium introduces some Twitter-like features, such as the ability to retweet, reply, and send direct messages. The update adds some useful SMS templates and is fully compatible with the recent iPhone iOS 4 software update.
Available from the App Store, Vopium – Free Calls, Cheap International Calls and SMS with IM is free to download and requires the iPhone 3.0 Software Update or later. There's a separate app for the iPod touch.
New users get 15 free minutes and 15 free SMS messages when they sign up. With no monthly subs, Vopium is a prepaid service. After using your 15 free minutes, users can login at vopium.com and buy new credit, or top up accounts via the Vopium application.