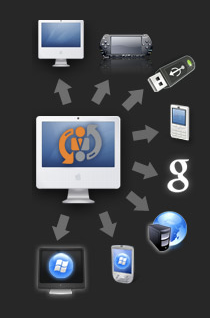 You own a Mac, but you were tempted away from the iPhone by a Droid, a Nexus One, or that hot young Windows Mobile thing from HTC. You played with your newest gadget, chortling over native Google Voice implementation and other niceties you can't have on the iPhone, when suddenly a nagging sensation, a creeping concern, came over you. It's Address Book, iCal, iTunes, and your other crucial apps, all whispering disdainfully, "Ha. See if we'll sync with that."
Eltima Software feels your pain and has come to the rescue with SyncMate, just upgraded to version 2.6. The list of gizmos SyncMate will talk to is staggering: Windows Mobile, Nokia Series 40, and Android via your Google accounts for your cell phones; Macs, Windows (XP and Vista), external USB flash drives, and the Sony PlayStation Portable for your computing needs. (The Macworld lab is determining whether SyncMate left out the Atari 2600 and the alien computer from Independence Day, or if they were merely omitted from the list due to lack of room on their web page.) If that's not enough, SyncMate also allows you to synchronize folders to online data storage, protected with encryption and passwords.
The data you can sync includes iTunes audio and video, iPhoto albums, Address Book, iCal appointments and tasks, Firefox or Safari bookmarks, Entourage or Mail notes, and "more", although I'm not certain what data remains after all that. System 7 resource forks, perhaps.
SyncMate comes in two versions: a freeware version syncs only your contacts and calendars to your Google accounts. The paid Expert version does all of the above. Eltima offers online data storage for both versions for… 1,000 years. No, really.
SyncMate requires Leopard or Snow Leopard, and costs $40 for the Expert version. Their website maintains a master list of all of the devices it will talk to, in case you're not certain what mobile OS is running on your current and future gizmos.