At a Glance
Expert's Rating
Our Verdict
Editor's note: The following review is part of Macworld's GemFest 2010 series. Every day from mid July through August, the Macworld staff will use the Mac Gems blog to briefly cover a favorite free or low-cost program. Visit the Mac Gems homepage for a list of past Mac Gems.
Voicemails on your iPhone are actually saved to your Mac (in ~/Library/Application Support/MobileSync/Backup) when you perform an iPhone backup. So you might think that if you want to copy a voicemail from your iPhone to your Mac, all you need to do is go into the backup directory and find the files. But it's not that easy—when you open the backup directory, you see what looks like mumbo-jumbo.
You can use a program like iPhone/iPod Touch Backup Extractor to get the voicemail files out of the backup, but it's an indirect process. You have to extract a directory from the backup that includes a bunch of other files in addition to your voicemails. Then you have to find the voicemail files in order to open them in iTunes or QuickTime Player. It's not a difficult process, but for the inpatient or the less technically savvy, there's an easier way.
Decipher VoiceMail is a program made specifically for voicemail retrieval from your iPhone backup. When you launch the program, it automatically finds your iPhone backup and voicemail files. It then displays a window that lists the voicemail files.
You can then select a message, play it, or save it to a directory of your choice, like, say, your desktop. Decipher VoiceMail saves the files as .mp4 files only; there is no ability to save in different file formats. But you can open the files in QuickTime Player or iTunes can convert them.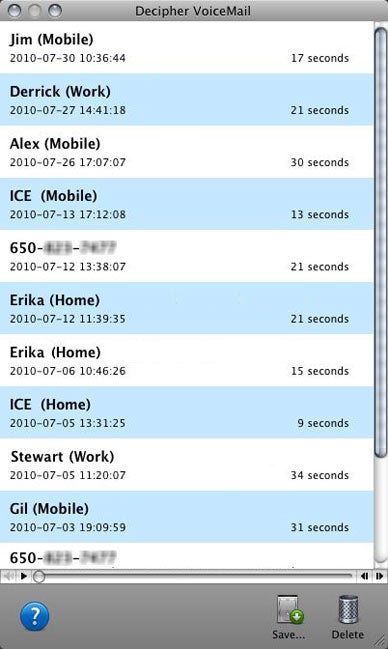 Decipher VoiceMail is straightforward and takes very little effort to use. The only confusing feature of the program is its Delete function, which removes the message from Decipher VoiceMail's message list. It doesn't delete messages from the iPhone, nor does it delete messages from the backup.
When I deleted all of the messages in my Decipher VoiceMail list, the messages did not reappear in the list when I relaunched the program. But when I looked at my backup using iPhone/iPod Touch Backup Extractor, the message files were still there. Seems to me that this function should be called "Remove from list" or something similar, and a refresh list function would be helpful to reinstate messages that have been removed from the list. A Decipher Media representative says that if you delete the vm.db file (located in ~/Library/DecipherMedia), a new vm.bd file will be created when you launch Decipher VoiceMail, thus recreating the message list. I found that this worked to refresh the message list.
The $20 PhoneView ( ) has more features for accessing your voicemails, and it also can retrieve iPhone text messages. But for no-nonsense voicemail retrieval, Decipher Voicemail is very good and only $5. Decipher Media also has Decipher TextMessage ($5), which lets you extract your text messages from your iPhone backup.
Want to stay up-to-date with the latest Gems? Sign up for the Mac Gems newsletter for a weekly e-mail summary of Gems reviews sent directly to your inbox. You can also follow MacGems on Twitter.
Our 186-page Mac Gems Superguide is a veritable greatest hits of Mac Gems. It's available as a PDF download, PDF on CD-ROM, or as a printed book. Learn more about the Mac Gems Superguide.
[Roman Loyola is a Macworld senior editor.]