If you're a Final Cut Pro user, you understand the importance of keeping your project's SMPTE timecode in view. Final Cut Pro 7, released a year ago, finally introduced a floating timecode viewer, making it easy to see from any distance, but for those still using older versions of Apple's video-editing application, BigTime by Digital Heaven, will give you this same timecode functionality and then some.
Digital Heaven has updated BigTime to version 2, adding a number of useful features aimed at film editors such as a customizable heads-up display window.
BigTime is a resizable floating timecode display for Final Cut Pro v5, 6 and 7. Designed for professional film editors who present their work to clients, BigTime displays the project's timecode—essentially a super-precise clock that shows how much time has elapsed in your project and also keeps plug-ins and devices for your project sync'd together—so that it can be seen from across the room.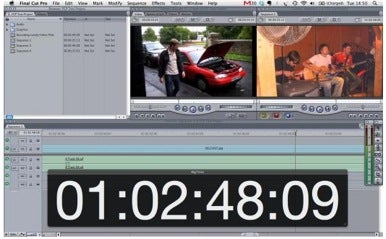 With BigTime 2.0, Digital Heaven converted the application's floating timecode display into a heads-up display (HUD) window. This puts it in a separate window that remains in front of what ever window you are using. For added flexibility, you can adjust the location, size, opacity, text style, and background and text color of the HUD.
Also new in BigTime 2 is the ability to view the time code as an overlay in the digital cinema desktop preview display (DCDP). You can adjust the location, size, color, and more for the DCDP overlay as well. Finally, an automatic launch and quit option has also been added, which lets BigTime conveniently launch or quit alongside Final Cut Pro.
BigTime 2 runs with Final Cut Pro v5, 6, or 7 on Mac OS X 10.5 or higher and costs $49 as a full purchase, or $19 to upgrade from BigTime 1.x.