At a Glance
Expert's Rating
Our Verdict
Have you ever come across contact information on a Web page, in a document, or in an e-mail message, and wanted to quickly add that information to your contacts? Some Mac OS X programs support Apple's Data Detectors technology, but it's limited in its usefulness—and it's unavailable in many non-Apple applications.
A great alternative is WhoPaste. Once you've installed WhoPaste, it appears, depending on the program, at the top level of contextual menus or in the Services sub-menu of contextual menus. Just select some text on your screen; right-click (or Control-click); and choose the WhoPaste command. (You can also use the Services area of the Keyboard pane of System Preferences to assign a keyboard shortcut to WhoPaste—I use Shift+Control+W.) A contact-editing window immediately appears with all the information entered, as if by magic, into the correct fields.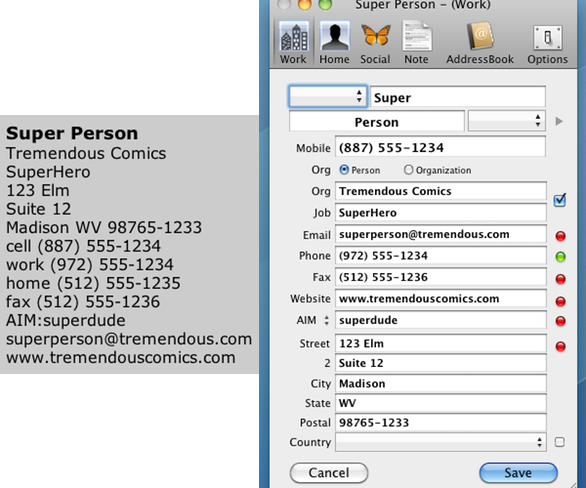 You can edit any of the data, which is automatically organized across Work, Home, Social, and Note screens. (WhoPaste fills in the Note field with the date and time you created the record, as well as the source program and, if applicable, the source URL.) Click Save, and the data is saved to a new contact record in your preferred contacts program—Address Book, Daylite, Entourage, or Google Contacts—or in multiple programs simultaneously. If a contact already exists—WhoPaste can check the e-mail address, person and organization names, and phone number for duplicate data—WhoPaste instead opens that contact directly to let you edit it.
I tested WhoPaste with Mac OS X's Address Book, and the program worked impressively well, correctly identifying nearly every bit of data I threw at it, regardless of how that data appeared in its source. (You can see some examples of contact text on the developer's samples page.)
WhoPaste offers scores of options for customizing its behavior and how data is processed and stored. For example, you can assign new contacts—by default, or on a case-by-case basis—directly to one or more groups in your contacts program(s); choose whether unlabeled data is treated as Work or Home information; and customize the lists of "hints" WhoPaste uses to determine the type of each bit of information.
WhoPaste also provides keyboard shortcuts for quickly creating a new contact or task based on the contents of the clipboard, as well as shortcuts for creating a blank contact or task. For WhoPaste users in the U.S., the program can automatically create SMS e-mail addresses for sending text messages to contacts' mobile-phone numbers. And WhoPaste can send contact data directly to either of two third-party Dashboard widgets for immediate printing.
If you frequently work with spreadsheets full of contact data, WhoPaste offers a useful feature for extracting that data. Just select a range of data, copy it to the clipboard, and then press the keyboard shortcut for creating a new contact from the clipboard. The resulting WhoPaste window displays each contact's data separately, with a drawer one the side letting you switch between contacts.
For the obsessive out there—and I include myself in that category—WhoPaste can save processed text to an archive. If you ever have questions about a contact created using WhoPaste, you can easily view the source text.
WhoPaste also includes a number of AppleScript commands and Automator actions for using some of the program's features from within your scripts and workflows, and you can—by default, or on a case-by-case basis—automatically process new contact information with an AppleScript. The program can also automatically save new contacts as separate text files in a folder, letting you use OS X's Folder Actions to run scripts or workflows on that data.
Although WhoPaste doesn't yet support creating new calendar events based on selected or copied text, that feature is currently in the works. However, if you use the task-management program Things, WhoPaste can create a new scheduled task in Things, which can then sync with iCal.
Because it relies on OS X's Services feature, WhoPaste's contextual-menu command isn't available in every program. For example, Firefox users must copy text and then use the new-contact-from-clipboard keyboard shortcut. And WhoPaste's interface can be a bit overwhelming thanks to tabs and sub-tabs worth of options. But WhoPaste works so well that it makes OS X's own Data Detectors feature seem rudimentary.
(The developer also offers an iPhone version of WhoPaste.)
Want to stay up to date with the latest Gems? Sign up for the Mac Gems newsletter for a weekly e-mail summary of Gems reviews sent directly to your Inbox.