Intel has just announced Thunderbolt 5, a new update to the Thunderbolt specification that doubles the bi-directional bandwidth to 80 Gbps (Thunderbolt 4 supports up to 40 Gbps). A feature called "Bandwidth Boost" provides up to 120 Gbps for video content.
The standard is built on USB4 V2, DisplayPort 2.1, and PCI Express Gen 4 and is fully compatible with previous Thunderbolt versions. This performance is achieved using a new signaling technology called "PAM-3" which should enable today's printed circuit boards and passive cables (up to 1 meter) to achieve this performance.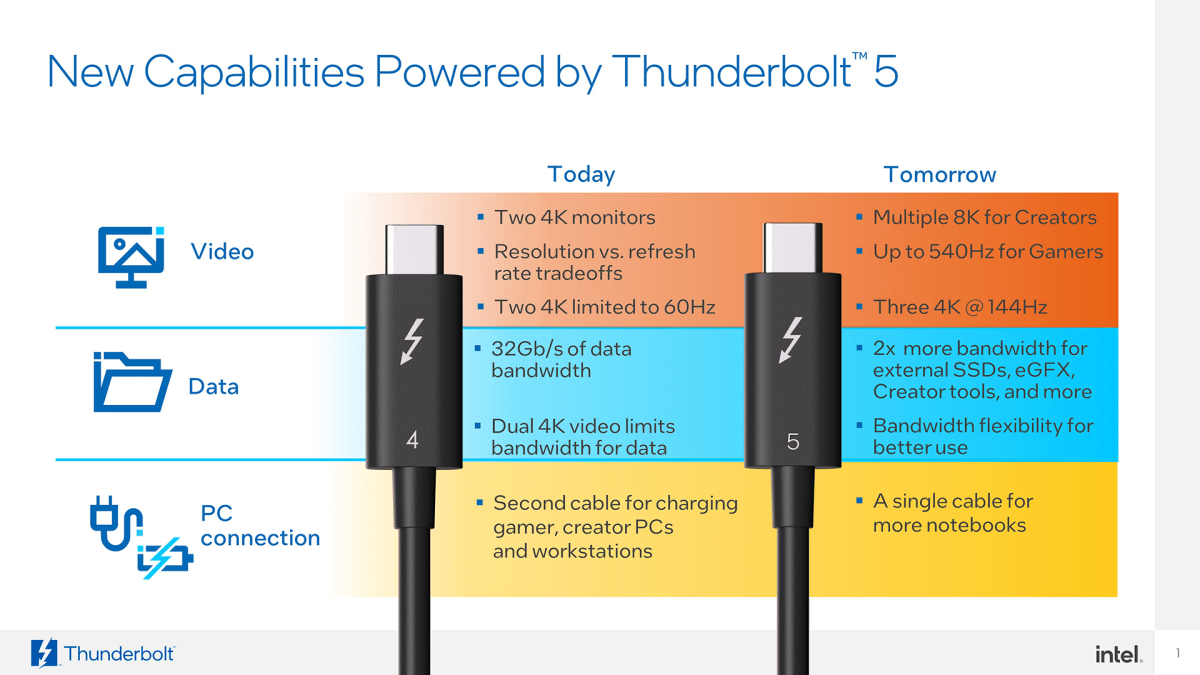 Intel
Apple includes Thunderbolt 4 connectors on many Mac computers and the iPad Pro, and it's expected that future models will support Thunderbolt 5. Intel's press release says, "Computers and accessories based on Intel's Thunderbolt 5 controller, code-named Barlow Ridge, are expected to be available starting in 2024." It's unlikely that Apple will ship a product using its own controller before then, so it's going to be at least 2024, and possibly 2025 before we see Macs or other Apple products with Thunderbolt 5 ports.
The iPhone 15 Pro and Pro Max models feature 10Gbps USB-C, not Thunderbolt 4.