Add one more bullet point to the list of things Droid does: Taunt the iPhone in increasingly public displays of mockery. Verizon placed a full-page ad in The New York Times this week to tease the imminent arrival of the next version of its flagship Android device, the Droid X. And amongst its other, more typical ad copy, the one-sheet includes this choice gem:
And most importantly, it comes with a double antenna design. The kind that allows you to hold the phone any way you like and use it just about anywhere to make calls.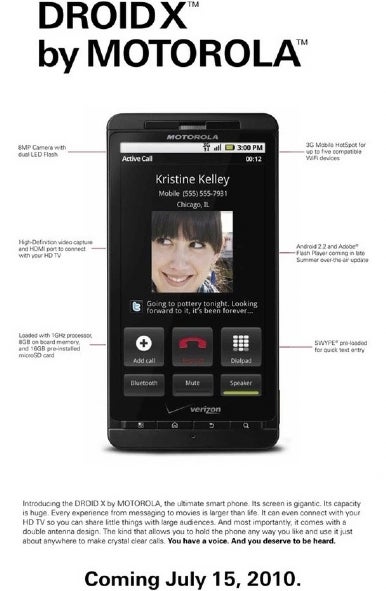 That, of course, is a not-at-all-thinly-veiled attack on the iPhone 4 and its much-discussed antenna-related interference issues—you know, the ones Apple plans to address by tweaking how the iPhone displays signal strength. Some iPhone 4 owners have found that touching a certain area of the iPhone 4's metal edge can cause "signal attenuation," a problem more colloquially described as: "Where the heck did all my bars go?"
It's certainly notable that this ad doesn't bang the "Droid Does" drum on issues like multitasking, now that iOS 4—and its take on multiasking—has rendered that argument moot. Clearly, if you want to kick the iPhone, you aim for its sole U.S. provider, AT&T.
All's fair in love and advertising, certainly, but one wonders if such pointed ad copy might influence Apple's decision-making on whether to expand to multiple carriers in the U.S.—and whether a new carrier would include Verizon, as has long been rumored.
16GB iPhone 4 (GSM, AT&T)
Price When Reviewed:
$485
32GB iPhone 4 (GSM, AT&T)
Price When Reviewed:
$599