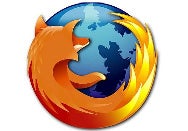 The Mozilla Foundation has released an early beta of the upcoming version 4 of Firefox, its flagship cross-platform browser for Windows, OS X, and Linux.
The long-awaited release introduces a number of improvements and additions over previous versions of Firefox. Firefox 3 came out two years ago, while version 3.5 of the Web browser debuted in 2009.
HTML 5 and CSS 3, the standards that are slated to power next-generation Websites, are clearly at the forefront of Mozilla's development efforts. Firefox 4 includes extended support for many of the new features that those two technologies introduce, including the Websocket API, which enables Web-based applications to access servers using arbitrary protocols like, for example, the one used by e-mail clients.
Most interestingly, Mozilla has chosen to support HTML 5 video playback by implementing Google's WebM video codec, which, like Firefox, is open-source and (at least in theory) unencumbered by patents. The non-profit has made it clear in the past that it has no intention of supporting H.264, a competing format backed by companies like Apple and Microsoft and currently licensed under a royalty-free scheme by the MPEG-LA Consortium.
According to a fact sheet published on Firefox's Website, the new browser also includes significant performance enhancements, such as support for hardware acceleration and a technique, called "lazy frame construction," that limits the circumstances under which certain HTML operations trigger a reflowing of a web document, thus speeding up the rendering of dynamic Web pages.
On the safety and security fronts, Firefox 4 introduces support for out-of-process plugins (OOPP) on OS X for the first time. OOPP, a technique also implemented by Safari, isolates plugins from the main browser process so that they can crash without taking down Firefox with them. Mozilla has also added a new technology called Content Security Policy, which lets Web developers specify how their pages interacts with content from other domains in an effort to mitigate certain security vulnerabilities.
Despite its many enhancements, it's worth noting that Firefox is still of early-beta quality—meaning that it will crash and behave in unexpected ways frequently enough that it's unlikely to work well as your day-to-day browsing companion. Still, for those who want to check out what Mozilla has in store, it can be downloaded directly from the foundation's Website.