While I can wistfully remember my days developing film in a darkroom, sadly those times for me—and likely most others—are in the past. Thankfully SwankoLab, from Synthetic Infatuation, brings some of the spirit of the darkroom to your iPhone.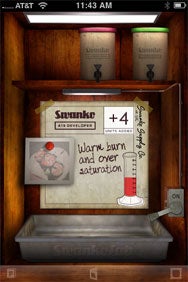 You may remember Synthetic Infatuation as the developer that created the hugely popular Hipstamatic. If that app turns your phone into a virtual toy camera, SwankoLab coverts it into a darkroom. Like Hipstamatic, SwankoLab features an absolutely gorgeous and easy-to-use interface.
As in a real-life darkroom, SwankoLab allows you to "develop" your photos by selecting virtual chemicals with which to process your images. Launching the app presents you with a darkroom tray. As soon as you select an image to process, containers of chemicals appear on the shelf above the tray. You tap on the chemicals, and see the liquid being poured in to the development tray.
You've got a variety of virtual chemicals at your disposal—each is dispensed in preset unit amounts. You can choose to mix and match the chemicals and units to create your own look, which can then be saved as a Formula for future use. You can also choose from some existing formulas—a nice way to get started with the app. Each formula lists the details of the chemicals used, so you can learn which are your favorites for experimenting with later.
After you have chosen your chemicals and formula, you pull the handle in the virtual lab, and your photo drops into the development tray. At this point, the screen turns into a big tray and—just like in a real darkroom—as you gently shake your phone to swish the chemicals over the image, you see the development process take place. After the process is complete, the image is hung to dry with a clothespin, at which point you can save it to your camera roll, e-mail it, or delete it.
Like Hipstamatic, SwankoLab also makes great use of in-app purchases. There is a store within the app called "Uncle Stu's Photo Emporium," where Uncle Stu is your friendly neighborhood darkroom manager. The Photo Emporium sells additional chemicals to give you an even wider range of development options. In fitting with the retro look and feel of all of Synthetic Infusion's apps, Uncle Stu looks like he is right out of the '70s. For $2, you get a Lifetime Subscription to Uncle Stu's store, and you'll automatically receive all new products when they're released.
SwankoLab is not just about having fun mixing chemicals and getting your darkroom fix vicariously through Uncle Stu, however. The results produced by the app can be stunning. With a limitless amount of chemical combinations, SwankoLab allows you to have a lot of fun interacting with and developing your photos. And since it's all happening in a virtual darkroom, you don't need to worry if Uncle Stu turns on the light by accident.
[Macworld contributor Beau Colburn lives in Boston and posts iPhone photos on his site Snap different.]