The nearly forgotten Keanu Reeves movie, Johnny Mnemonic, featured a protagonist who could lock data up tight in his head. Steel Trap, a $3 memory trainer app from Tiguer, won't quite give you Keanu's iron-clad memory from that cinematic masterpiece, but it might help you remember the name of the cute barista at the corner coffee shop.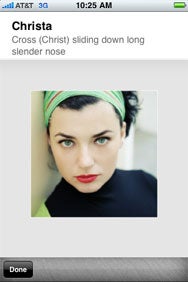 The app promises to help you improve your memory skills by offering a series of games—tests of your ability to recall numbers, playing cards and the names of several attractive people. It also helps with mnemonic devices, some of which make more sense than others. For example, you're trained to remember the name of Christa—a green-eyed beauty featured in the app's Cocktail Party section—with this sentence: "Cross (Christ) sliding down long slender nose." That's somewhat understandable; another mnemonic that tries to help you remember an ace of spades card by showing you a picture of a food cupboard is less so.
If you're confused, though, memory champion Chester Santos is on hand to guide you through the exercises in a series of videos. And once you get the hang of things, Steel Trap allows you to add your own games and tests of memory skill.
At the very least, this fun little app might offer some fun game-play with your fellow passengers during long car trips.
[Joel Mathis is a freelance journalist and political columnist for Scripps Howard News Service. He lives in Philadelphia.]