Early Wednesday morning, Apple previewed a new version of the MobileMe calendar Web app. It is now available as a beta on me.com.
The Calendar beta includes a new Web application featuring redesigned day, week, and month views, and a new list view designed to make scanning events easier. Improvements in performance promise to make calendars load faster. The new Web application works best with Safari 5, Firefox 3.6, and—for Windows users—Internet Explorer 8.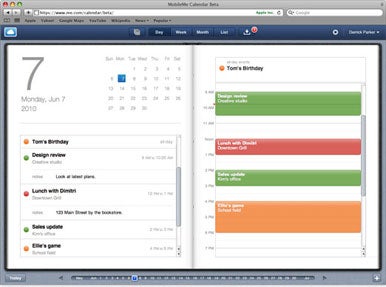 New features include a Web application, calendar sharing, calendar publishing, invitations with RSVP, and interoperability with both desktop and mobile devices.
To sign up, users can go to me.com/calendar and click the Request an invitation link in the lower left-hand corner. They will receive an e-mail notification when they are added to the beta. Members will be added in order of request over the next few weeks.
Users can share calendars with other MobileMe members to coordinate events and activities. Those sharing a calendar can edit events and set up email notifications for when they make changes.
The Calendar beta lets users share a read-only public calendar that can be viewed by anyone. After creating the calendar, just send send out a link so others can view it on an iPhone, iPad, iPod touch, Mac, or PC.
This version makes it easier to invite guests to events and to track RSVPs. Users can add the e-mail address to the event (recipients don't have to be MobileMe members) and guests will get an invitation e-mail they can respond to by clicking a link. The event automatically updates, making it easy to track RSVPs in the calendar.
The MobileMe Calendar beta uses the CalDAV standard, letting users view and edit calendars with the built-in calendar applications on the iPhone, iPad, iPod touch, and Mac. Support for PCs with Microsoft Outlook will be coming soon.
While you can leave the Calendar beta at any time, all changes made after joining the beta will be lost if you leave (unless you manually export your calendar before leaving). You will revert back to the calendar data that you had before joining the beta. If you downgrade, you will not be able to upgrade again.
Availability and requirements
To use the MobileMe Calendar beta, you need to be running iOS 4 on iPhone or iPod touch, iOS 3.2 on iPad, and Mac OS X 10.6.4 on your Mac.
Apple has already published a number of support articles about the Calendar beta, covering known issues, preparation, backing up calendar data, general troubleshooting, troubleshooting the upgrade process, and downgrading. The company has also published a FAQ about the new Web app that contains a good amount of additional information.