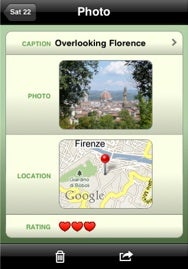 Jasper Apps really wants to help you plan and document your vacation with its My Vacation iPhone app. A major 2.0 upgrade released on Wednesday should make it even easier to kick back, record the sights for posterity, and make your friends and family sad that they're stuck at work.
My Vacation 2.0's new features lean towards the "instill jealousy" end of taking a vacation—you can now send virtual postcards and upload videos to Facebook. You can also now share a travel journal—a record of your journey that you can create using photos, videos, maps, and audio—to another iPhone or iPod touch over Wi-Fi or Bluetooth.
Other new features include better travel destination information (weather, local timezone, currency conversion, and links to external travel sites that are optimized for iOS devices); interface improvements to photos, maps, and video playback; and more.
My Vacation is available now in the App Store for $3 and requires an iPhone or iPod touch running iOS 3.0 or later.