Once upon a time—more than a decade ago, I'd reckon—I was at a blackjack table at Caesar's Palace, having a pretty decent evening by my admittedly low standards when a pair of young men sat down. And it didn't take long to realize that neither gent could claim anything resembling a passing familiarity with the rules of blackjack. Both were making criminally stupid plays—I can't say for certain that they were doing things like hitting on 17, but my memory tells me it was the moral equivalent of that.
I managed to escape their reign of terror relatively unscathed, thanks to conservative betting that became ever more reactionary the second it became apparent how badly these two yokels wanted to hand over their money to the casino. One of my tablemates wasn't so lucky—when one member of the two-man doofus crew made a particularly boneheaded play that spared the dealer a certain bust and cost this gent a healthy stack of chips, he finally exploded. "We are playing for real money here!" he bellowed in a kind of a scream-howl hybrid of outrage I still hear anytime I witness someone behaving particularly foolishly.
I'm not sure what my gambling compatriot from that night at Caesar's would have made out of a pair of iPad-based blackjack apps I've been testing—Blackjack HD from Haolan Qin and Blackjack for iPad from MobilityWare. But given his demanding standards and apparent lack of patience for tomfoolery, I don't think he'd be very impressed. Both apps cover the basics of blackjack but offer little beyond that.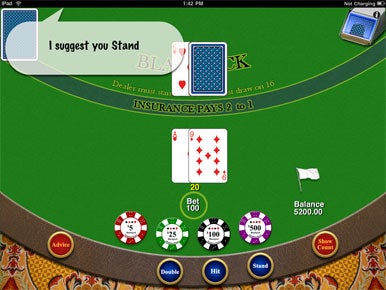 Both Blackjack HD and Blackjack for iPad sport the same look and approach—you sit down at a green felt table with a $1,000 bankroll and face off against the house in a game of blackjack. The controls are what you would expect from a blackjack game: you can hit or stand or—when appropriate—split cards, double down, or surrender. Each app also has an Advice button to tap when you want to know how to play a particular hand. The idea, apparently, is that you'd use either app to practice your blackjack skills at home before disgracing yourself in a casino.
Both apps offer contextually appropriate buttons to tap, though Blackjack HD takes things a step further by giving you the option to use gestures—double-tapping to hit and swiping horizontally to stay, for example. It's a clever blend of common blackjack gestures and the iPad's interface, certainly, but I found myself tapping the buttons in Blackjack HD just as I did on Blackjack for iPad.
Speaking of Blackjack for iPad, that name is a bit of a misnomer. MobilityWare's offering is actually a hybrid app that will run on either the iPhone or the iPad. The iPhone version is essentially a shrunken down version of the iPad app—or the iPad version is a blown-up rendition of what you get on the iPhone. It all comes down to whether you're a complimentary-cocktail glass half-full or half-empty kind of person, I guess.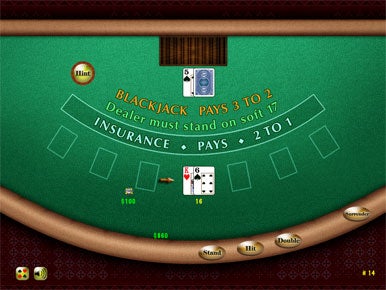 Blackjack for iPad distinguishes itself from Blackjack HD in a couple of ways, first with its settings. You can set the number of decks used in a game to better approximated the multideck games you'd play at most casinos. You can also turn the insurance and surrender features on and off. And you use Blackjack for iPad to practice your card-counting skills—the game lets you choose between a Hi-Lo or K-O counting system (or none at all), so that you can master this frowned-upon practice away from a pit boss's piercing stare. Blackjack HD offers no options other than the ability to turn off sounds. Blackjack for iPad also keeps a running tally of your statistics—how many games you've won, the number of times you've busted, and so forth—giving it another leg up over Blackjack HD.
What's more, Blackjack for iPad offers better graphics than what you get from Blackjack HD, where the cards and chips are compressed to a miniature size that looks out of place on the iPad's expansive screen. Everything's a little bit larger in Blackjack for iPad, which makes for a more aesthetically pleasing game. That said, both games fail to really make the most of the iPad's screen space. In landscape mode in particular, large portions of the screen go unused. It really feels like a missed opportunity for both developers.
Which brings me to my biggest problem with both apps—in Blackjack HD and Blackjack for iPad, it's just you against the house. There are no other players, virtual or otherwise. And that limits the appeal of both games. If you use either app as a practice tool, you're not really getting an authentic experience—I can't recall too many times when I sat down at a blackjack table where it was just me and the dealer. From a pure enjoyment standpoint, limiting things to a single player makes for a dull, repetitive experience (especially since, if you burn through your bankroll, both games just replenish your chips). Adding some multiplayer options—be it an actual person or just virtual opponents—at least gives you some yardstick to measure your blackjack savvy against.
In the case of both Blackjack HD and Blackjack for iPad, we may not be playing for real money, as that gentleman I ran into at Caesar's Palace once bellowed. But we are playing for something—entertainment value, card-counting practice, what have you. On that score, Blackjack for iPad enjoys a little bit of an edge over Blackjack HD. But because of the failure to make more of the iPad's features or offer some sort of multiplayer option, both blackjack games wind up busting out.
[Macworld.com executive editor Philip Michaels always splits aces.]