There's a certain kind of Twitter user who goes completely crazy with the microblogging service and follows everyone they know, every celebrity they like, and essentially everything they are interested in. For these people, the organizational genius of TweetList for Twitter, from Zooble, is a lifesaver.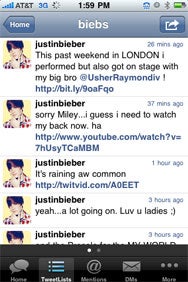 Other Twitter apps for the iPhone and iPod touch offer list capabilities, but the $3 TweetList keeps things simple by making the lists its main feature. In addition to a main display of your general timeline, mentions, and direct messages, TweetList's list section allows you to scroll through multiple customized feeds.
For instance, you can create a feeds for your family members, roommates, favorite blogs, or celebrities you like. Considering how easy it is to get carried away with following and how irritating it can be to rummage through your timeline looking for the latest tweet from a particular person, this is a handy capability to have at your fingertips.
TweetList keeps the basic stuff simple. When you tweet, you can add a picture, shorten a URL, and scroll through a list of your friends for easily inserting their names into your message. All of the customization is under the More tab, all of it straightforward and user friendly.
The app even looks simple, which doesn't give it any "wow" factor. But TweetList's approach gets the job done, especially when you consider that the app's customized feeds are the reason to have this on your iPhone, iPod touch, or iPad. (Note that the app isn't optimized to run on the iPad, though the recent 1.5.0 update added support for iOS 4.)
Another unique thing about TweetList is the extensive profiles it displays. A lot of Twitter clients will let you see your friends' profiles, but will rarely let you tap your way to someone you don't follow or who doesn't follow you. TweetList allows that, mirroring the functionality of the Twitter Website. Perhaps that's not an earth-shattering capability, but I like how the app has some parity with the full-on Twitter experience on the Web.
Too often, Twitter clients try to cram endless features into the cramped iPhone screen. TweetList keeps it simple; for $3, this app will filter a lot of the ambient tweeting that comes with following everyone we've ever heard of.
[Meghann Myers is an editorial intern at Macworld.]