If you have an iPhone, you're probably already well-acquainted with its camera, and how easily you can e-mail photos, stick them on Flickr, or foist them upon your Facebook page. But your iPhone has such a respectable little camera, that you should also consider printing your iPhone pictures. (You remember printing: it's that quaint, ancient technology wherein images are fixed to flat pieces of mashed wood pulp.)
While you shouldn't expect to make gallery-quality prints of enormous size with your iPhone, you can easily knock out decent 4-by-6-inch prints and possibly even good 8-by-10-inch prints. The quality of your prints will vary depending on how good a job you did shooting, which iPhone you used, and how good your printer is.
Take print-worthy photos
An iPhone 4 will take more print-friendly pictures than previous iPhones because it delivers images with a higher pixel count, and a 3GS will do better than its predecessors, for the same reason. Increased pixel count will manifest itself as a slight improvement in an image's overall sharpness. Also, because the 3GS and iPhone 4 allow for selective focus and metering, they offer more shooting flexibility. But even if you're working with a first-generation iPhone, you can still make small prints.
There are some improvements you can make to your images using a photo editor, which we describe here, but edits can only do so much. You want to capture as good a picture as you can right away, and that's true whether your final output is print or electronic delivery. These normal shooting tips apply to iPhone photographers:
• Remember that the iPhone likes as much light as possible, so if you're shooting indoors in low-light, try to turn on more lights.
• If you're using an iPhone 3GS or later, tap on the screen to choose what part of the image you want to focus on and properly expose. If you're shooting in a back-lit situation, tap on your subject. The background will probably blow out and be completely white, but it's better to have a subject that's well-lit than a faceless silhouette and a well-exposed background (unless that's the effect you are going for).
• In low-light situations do something to stabilize the camera—a blurry image can't be unblurred. You can use an iPhone-compatible tripod, or find a place to rest your iPhone and use a timer app.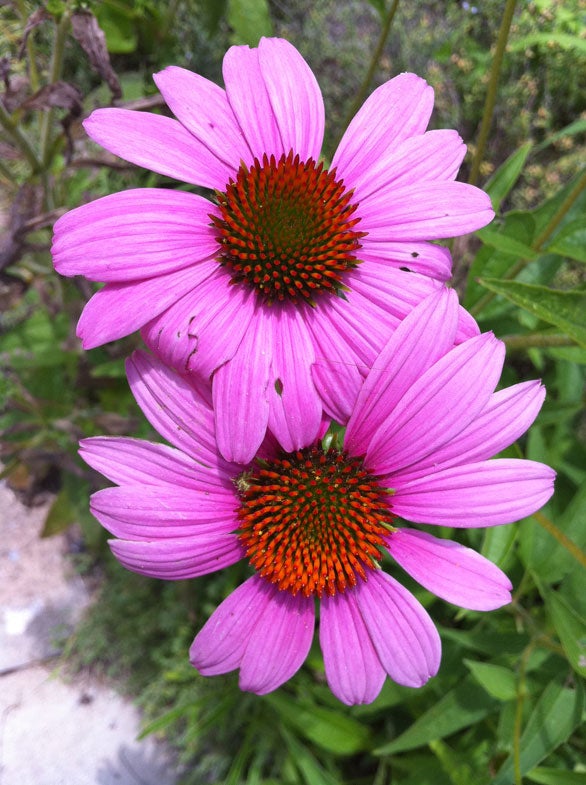 If you are using an iPhone 4, there are a couple of other things to keep in mind. First, while the front facing camera makes shooting self-portraits much easier, it also yields prints of substantially lower-quality than the 5-megapixel camera on the back of the phone. Second, as with any flash, too much of the iPhone 4's LED light will leave your images overexposed. The iPhone doesn't offer any kind of flash exposure compensation, so the only control you have is distance. The farther away you are, the less intense the flash's effect will be. While I'm normally loathe to recommend using digital zoom, with the iPhone it's worth risking a little pixelation to get your flash exposure under control. If you want a tight shot of someone, consider standing further away, and zooming in, to reduce your flash exposure.
Pick a paper size
If you're printing to a photo inkjet printer, then ideally you want the resolution of your print to be 240 pixels per inch. At this resolution the first generation iPhone or iPhone 3G's 1600-by-1200-pixels will yield a 5-by-7-inch print. The iPhone 3GS's 2048-by-1536-pixels will give you a 6-by-8, while the iPhone 4's 2592-by-1936-pixels will get you an 8-by-10.
Bear in mind that just because your iPhone delivers these specs doesn't mean that you're going to get prints that are as good as what your point-and-shoot digital camera can produce at the same size. Also, you can go larger than these sizes, but you'll possibly see a softening of the image. However, larger prints are usually viewed from farther away, so a little less detail in a larger print isn't necessarily a bad thing.
If you scale your first gen iPhone image up to 8-by-10-inches, the resolution of your image will drop to 160 pixels per inch. With this low density, your images will appear soft and some edges might appear pixelated. If you have Photoshop, you can choose to resample your image when you scale it upwards, which might give you a better enlargement.
The iPhone shoots an image with a 4:3 aspect ratio. If you plan on printing borderless on a 4-by-6-inch piece of paper (or any other print size with a 2:3 aspect ratio) then you'll need to crop your image. If you're bypassing your Mac, the Photogene app provides cropping (with constraints for 3:2 and 4:3 aspect ratios) as well as image eding tools like levels and sharpening adjustments, and decent saturation controls. It should provide everything you need to get your shots ready for printing.
Print the final product
While any printer will be able to make a print, you'll be better-served by a photo printer of some kind. All of the usual printing concerns apply when choosing a printer—do you need great archivability, and so on (see our Photo printer buying guide for more information). But again, the iPhone's not going to yield great fine-art prints, so any decent consumer color printer should work. If you want to create borderless prints, you'll need to ensure that your printer has this capability.
You'll need photo paper of the correct size. (We explain how to choose the right photo paper here.) Most printer vendors supply pre-cut sheets, usually in glossy or semi-gloss, making it easy to knock out 4-by-6-inch prints. Of course, you can print on larger sheets and trim things down, but that's more of a hassle.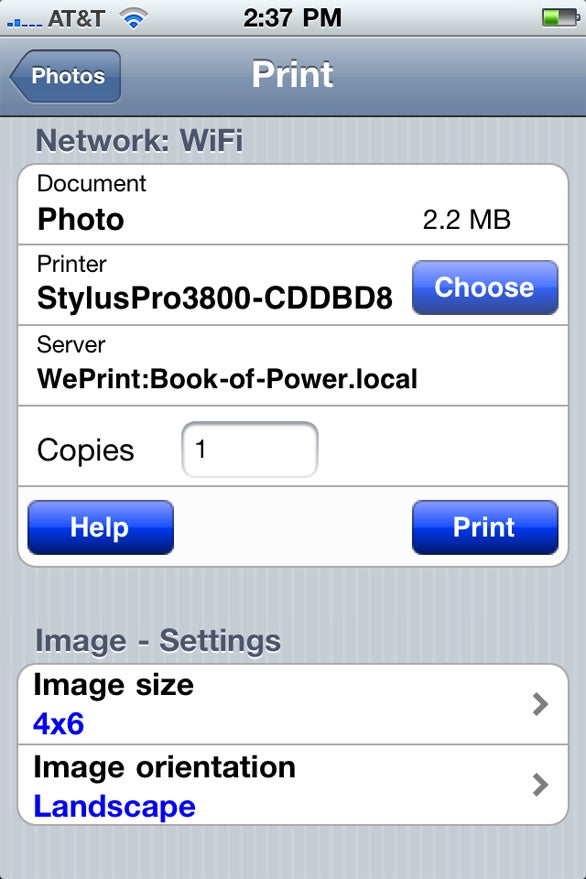 If you'd rather not waste time transferring images to your computer, you can also do all of the printing directly from your iPhone. If you're already doing your editing in the iPhone, this is a great option. EuroSmartz's Print n Share is an iPhone app that lets you select any image on your phone, (or an e-mail, Web page, contact, or capture an image directly from the camera) and send it to any printer that knows how to make itself visible to your LAN.
Once you've chosen the image you want to print, you hit the print button to select the printer you'd like to print to. Obviously, there's no USB port on the iPhone, so you need a printer that's connected to your network, either wirelessly or via an Ethernet cable into your wireless router.
In my tests, Print N Share had no trouble printing directly to two HP office printers connected to my ethernet hub. When I tried to print to an Epson photo printer, though, nothing happened. Fortunately, EuroSmartz makes a special print server that you can run on your Mac, which will handle printing to printers that Print N Share can't print to directly. In these cases, printing from the phone is still a simple process, you just have to make sure your Mac is turned on, and that the WePrint Server software is running.
WePrint brings you another cool option: 3G printing. In other words, the ability to print to your printer when outside of your local area network. I took a walk to the corner store to get a sandwich, took a picture along the way, printed it from inside the store, via a normal 3G data connection, and when I got home the print was waiting in my printer.
Print N Share has a few quirks. Figuring out the proper orientation for 4-by-6-inch printing will take a few test prints, and configuration of 3G printing stalled a few times. You'll have no control over paper type selection, but for knocking out quick snapshots on glossy paper, this is fine, since most printers default to glossy settings. All-in-all, Print N Share is a great solution for printing any type of data from your iPhone.
Manage your expectations
When I say that you can get a good 4-by-6 print from your iPhone, it's with the understanding that it is still just a phone. You'll never get an image that's perfectly sharp, but you will get images that, when viewed from a typical viewing distance, look pretty good. And a slightly soft image of a memorable moment is better than no image at all.
You can also use the iPhone's weaknesses to your advantage. Sometimes, blurry, noisy images with weird color can be fun. Or, you can use iPhone editing software such as CameraBag or Hipstamatic to stylize your images with a more "retro" or grungy look before you print. Texture, grain, color adjustments, and noise can be very atmospheric, and will print well. If you are using an app to take or edit pictures, check its settings to make sure it is saving the images as the largest possible size.
If you find yourself frustrated by your iPhone prints, just ask yourself, "but can I play Tetris on my SLR?"
[Macworld senior contributor Ben Long is the author of Complete Digital Photography, fifth edition (Charles River Media, 2009).]