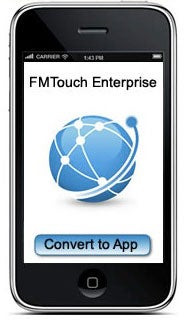 FileMaker Pro database developers are able to ship their software as native Mac and Windows apps with FileMaker Pro Advanced, but they haven't been able to do the same if they wanted to deploy on iPhones, iPads, and the iPod touch. FMTouch has bridged that gap with the release of FMTouch Enterprise.
FMTouch Enterprise is a subscription service which translates FileMaker code into iOS applications, no XCode necessary. Developers build their database, add customized layouts for the iOS deployment, then upload the database to FMTouch's server. The server responds with an iPhone app which developers can test on their own equipment; this app can then be submitted to the App Store once it's working as desired.
FMTouch bridges between ongoing development and the application: modifications to the database can be used to create upgraded versions of the software, and the data stored in the iOS application can be synchronized with a live FMP database. (FMTouch's Website indicates that FileMaker Server Advanced is only supported on Windows; it's unclear if other methods of FileMaker Web publishing can be used for this.) The deployed app can integrate with several iOS features, including camera photo capture, GPS data storage, and autodialing from within the app.
FMTouch Enterprise features a $299 activation fee, and ongoing monthly fees based on how many apps you deploy, ranging from $30 for one app to $100 for unlimited. An unlimited annual subscription is also available for $999 activation, and $650 per year. All subscriptions include unlimited prototyping.
FMTouch Enterprise requires FileMaker 9 or higher; an active iPhone Developer account; and an iOS device for testing. Apps can be deployed with two-way data encryption, but a separate U.S. license will be required for each.