In a blog post Wednesday, YouTube unveiled an extensive makeover for its mobile site, m.youtube.com. The YouTube Mobile site, the company says, now receives more than 100 million video playbacks each day—about the same number of video playbacks the entire YouTube site scored per day back in 2006 when Google bought it for $1.6 billion.
The updated version of the mobile site is meant to be fast and touch-friendly. Of course, iPhone and iPad owners know that their touch-devices already include a custom, Apple-built YouTube app.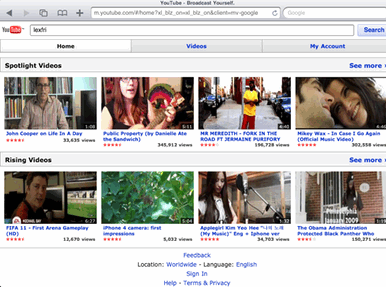 But YouTube counters that its mobile site offers numerous advantages over native apps like Apple's: First, YouTube Mobile offers support for more site features, like playlists, and favoriting or "liking" videos. On top of that, as a web app, the mobile site can get more frequent updates than Apple's own native app can, incorporating new features and improvements quite rapidly.
In my own brief testing of YouTube Mobile, it seems quite snappy and sports a smart layout, particularly on the iPad. If you decide to give Mobile YouTube a go as your preferred iOS YouTube client, you can add the app as an icon on your device from within Mobile Safari.