At a Glance
Expert's Rating
Our Verdict
As complex and powerful as computers are these days, they don't always provide a way to perform the simplest of tasks. Take, for example, setting a basic timer or a reminder. Most calendar programs make it easy enough to set up a reminder for an event, but that's often overkill if you just want an alert when the dryer cycle is done or your favorite show is about to start, or a reminder to perform—or check the progress of—a task at a particular time.
Over the past few years, I've used various programs for this purpose, but I've recently been liking Pester, which I discovered thanks to ClickToFlash developer Jonathan Rentzsch. This free utility makes it easy and convenient to create simple alarms.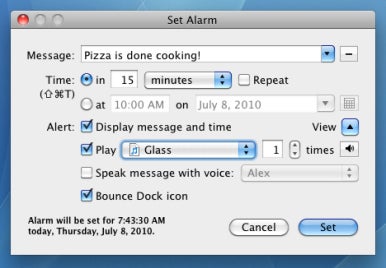 To set up an alarm in Pester, you just enter an appropriate alert message, if desired (you may not need one if the purpose of the reminder is obvious); choose when you want to be alerted (either at a specific time and date or after a set amount of time has passed—the latter option can also be used for repeating alerts); and choose the type(s) of alert. Click set, or press return, and your alarm is scheduled. A summary of the alarm appears at the bottom of the window.
Your alert options are plentiful: You can choose any combination of an onscreen message (which also displays the time), a bouncing Pester Dock icon, a spoken version of your message, or to play an alert. This last option is more capable than it appears: Although the pop-up menu lists all system alert sounds, choosing Other lets you select not just a different audio file, but any type of file QuickTime supports—audio, video, or even an image. You can also choose the alert volume, and if you have multiple audio outputs available, you can choose which one Pester uses.
Pester's Dock icon displays the time remaining before your next alarm; the program's Dock menu provides a summary of that alarm. If you choose to display an alert message, the resulting alert dialog includes a handy Snooze option that lets you delay the alarm by a set amount of time or until a specific time and date. And an Alarms window shows all pending alarms, although, oddly, you can't double-click an alarm to edit it.
For such a simple program, Pester's interface includes a number of thoughtful touches. For example, when inputting alarm times, Pester understands many abbreviations—20m for 20 minutes, 11a for 11:00am, an so on—and a pop-up menu and a calendar let you quickly choose a relative date (such as today, tomorrow, or next Saturday) or a specific date, respectively.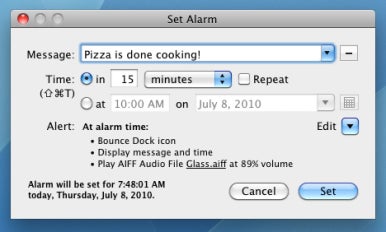 If you tend to use the same alert options, you can click the View button to convert the various options into a text summary, which makes the program's interface even simpler. Recent alarms are accessible in—and reusable from—the pop-up menu next to the Message field, which is useful if, say, you frequently use Pester to remind you to check your laundry, or if you regularly brew yourself a cup of tea while you work.
Nearly the entire interface can be accessed using the keyboard, and one of my favorite features is the capability to configure a systemwide keyboard shortcut for setting an alarm. Press this shortcut and the Set Alarm dialog appears, ready to do your bidding.
Finally, a couple nifty features are easy to miss: If you use the repeating alarm feature, subsequent iterations of an alarm won't occur until you dismiss the current instance—a welcome feature that means setting an every-15-minutes reminder won't result in a screen full of alerts if you're pulled away from your computer for a 2-hour meeting. And an optional setting in Pester's Preferences will prevent an alarm's onscreen alerts from displaying until you've stopped typing, so they won't interrupt your current train of thought.
I already mentioned Pester's lack of a way to edit an alarm. The program's other notable limitation is that if you put your Mac to sleep or shut it down, and you miss an alarm, Pester doesn't alert you of the missed alarm the next time you use your computer—it simply labels the alarm as Expired in the Alarms window.
But given the purpose of Pester—to make it easy to set up simple alarms—many people may never be bothered by those limitations. It's a great utility that I've come to use on a daily basis. As Jonathan Rentzsch so ably put it, Pester is obviously an app its developer uses himself.
Want to stay up to date with the latest Gems? Sign up for the Mac Gems newsletter for a weekly e-mail summary of Gems reviews sent directly to your Inbox.