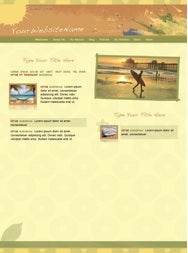 iPresentee, makers of themes and presentation media for apps like Keynote and Mail, released on Thursday iWeb Themes 8.0, a collection of five new themes for Apple's drag-and-drop Web design app.
iWeb Themes 8.0 includes both Flash and "standard" (read: not-Flash) versions of five new themes: Comics, Eco, Greenery, Light Colors, and Red Sunset. Each theme includes ten page templates: Welcome, About Me, Photos, My Albums, Movie, Blog, Podcast, Blank, My Hobbies and News.
The Flash editions of iPresentee themes typically include some kind of a background header element that is animated, such as a cloud in the Comics theme that rains. It's a subtle touch that some iWeb users may want to utilize for their readers, though the majority of each theme's Flash version is still standard HTML.
A unique aspect of iPresentee's iWeb themes is that the backgrounds are quite customizable. Instead of using a static background image that iWeb does not allow users to edit or replace, iPresentee's themes are actually a series of layered images which are quite customizable, replaceable, or removable.
The release of iWeb Themes 8.0 brings iPresentee's all-encompassing iWeb Suite up to a total of 75 iWeb themes—including 40 general themes that cover a variety of topics and uses, and 35 designed specifically for business. The suite bundle also includes 15 iWeb site intros, 75 animations, and 181 Keynote 3D Stuff objects.
iWeb Themes 8.0 is $25 for all five themes, or you can purchase each theme individually for $10. iWeb Suite is $70, and the content in all these bundles require Mac OS X 10.4.3 Tiger or later and iWeb 2.0 (iLife 08) or later.