The most complicated thing about PrintBureau, a hybrid app optimized for both the iPhone and iPad, may be its name.
EuroSmartz, its developer, says the $13 app enables printing on all of Apple's iOS devices. The company also makes other apps—PrintCentral for iPhone/iPod touch and PrintCentral for iPad, in this case—that handle printing on those specific devices. But, when you download and install PrintBureau, what you'll actually be doing is grabbing a bundle of both PrintCentral apps and placing them on their respective mobile devices. In essence, then, you're getting a pair of $10 apps for just $13 total.
As advertised, the PrintCentral apps work almost exactly alike, although the version for the iPad can take advantage of functions specific to iPad, enabling you to transfer documents via iTunes, and open and print files directly from other apps that support file sharing, such as Apple's mobile versions of Keynote, Numbers, and Pages. Both versions of PrintCentral enable you to open and print documents stored online in your Google Docs, iDisk, DropBox, and similar accounts.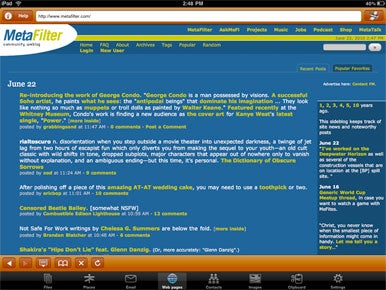 Both versions share other common capabilities. When you launch PrintCentral on the iPad, you're first presented with the Documents screen, which includes files you've saved within the app and also your clip archives—the app saves cut-and-copied text and images, which you can either print or share with the computer you have running EuroSmartz's WePrint server. At the bottom of the screen, a black strip provides access to PrintCentral's panes: Documents (or Files), Places (primarily your online accounts), Email, a Web browser, Contacts, Images, the Clipboard, and the Settings panel. Above that, in some instances, an orange strip with more icons provides access to functions particular to the pane—for example, the Web browser has forward and back buttons and access to a bookmarks menu.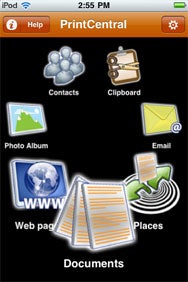 The iPhone/iPod touch version of PrintCentral makes do with less screen space by taking the black strip of icons from the bottom of each pane—which is how you switch between tasks on the iPad—and instead providing a home screen, which you return to when you want to switch between, say, printing a photo and printing a contact list. Although, in theory, this adds extra steps when carrying out a batch of disparate printing chores, the iPhone version's home screen seems cleaner and more comfortable than the iPad's black strip. Certainly the iPad version could accommodate both a home screen and a bottom-screen task-switcher—some users might find the home screen easier to work with, as I do.
Each of PrintCentral's individual panes is well-designed, with many interface elements consistent despite the different tasks being carried out. This makes the app relatively easy to use despite its complexity. However, the Web browser, in particular, can use an overhaul; it's functional, but clunky and slow, and appears not to have improved since EuroSmartz released its first app, Print, more than 18 months ago.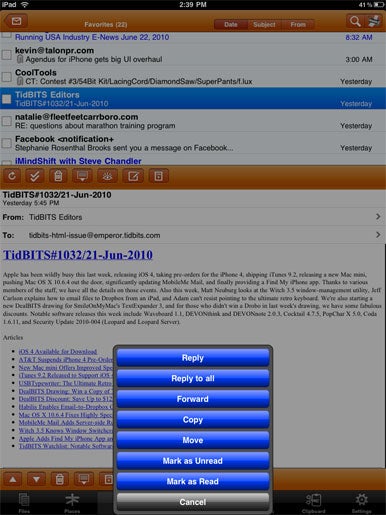 Because PrintCentral—both the iPhone and iPad versions—can print from so many different sources and provides a great deal of flexibility in both the types of documents it can print as well as app settings, there is a bit of a learning curve, both in operating the app and in determining what settings work best for different types of printing. For most documents, the printed results are pretty much WYSIWYG, but printing Web pages is more iffy, sometimes resulting in printouts with type that's too small to read.
PrintCentral works best if you download and configure WePrint, a print server program that runs on both the Mac and Windows. WePrint is easy to set up, and enables you to select the printers you want made available to PrintCentral (the printer must be a part of your network), and determine default font sizes, page margins, photo orientation, and so on. You can override any of these defaults from your iPhone or iPad.
WePrint must be open on your network computer for PrintCentral to access it; however, if for some reason it's not, you can still print—in lower quality—using IPP.
PrintBureau includes some network file-sharing capabilities that make it more than a multifaceted printing app; these are described in detail on the app's iTunes page, and are worth considering if you move documents between your desktop and mobile devices frequently.
At its heart, PrintBureau is a printing app, though. And it is a very good one that should satisfy the needs of most users who print at least occasionally from their iPhone and iPad.
[Jeff Merron is a freelance writer and editor living in North Carolina.]