Could special glasses improve how you game? That's the concept behind Gunnar Optiks' $99 MLG Legend glasses. Gunnar promises "reduced reaction time, improved accuracy, and increased visual endurance" when you game.
Through the use of ionic lens tints, i-FI coatings, i-AMP lens technology, and other fancy-sounding terminology, Gunnar's lenses are designed to reduce fatigue on the eyes from prolonged computer use, reduce "high energy visible light to speed visual recovery," and enhance contrast. Gunnar's Website boasts of "intensive study and research on the human optical system" and several pending patents on the technology.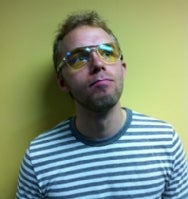 The fighter pilot-like yellow tinted glasses I tested reminded me of John Goodman's shades in The Big Lebowski or the shooting glasses you might see people wear at gun ranges. They aren't exactly on the cutting edge of fashion, but thankfully are intended for indoor use. I will not be inviting my girlfriend over to see me use these silver-framed glasses that say "Major League Gaming" on the side.
So do they actually work? Forgive the term, but it's all in the eye of the beholder. Some people swear that they help reduce headaches associated from staring at the screen too long, and I didn't experience any discomfort while wearing them throughout the week. That said, I don't usually get headaches when testing games, so maybe I'm not the target audience here.
As for improving my gaming ability, I tried a largely unscientific approach—I compared how I played with the glasses to how I played without them. Inspired by their likeness to the glasses worn by the Sniper character in Team Fortress 2, I played TF2 on Steam for the Mac. I alternated a half hour of gameplay with and without glasses. Granted, the glasses are supposed to work over time (enabling me to play longer due to straining my eyes less) but they're also supposed to make my reaction time better and improve my accuracy.
The first round, without the Gunnar eyewear, I had ten frags for four deaths. Not my best ratio, but I did have a nice string of three head-shots in a row that suggested I didn't have much difficulty with reaction time or accuracy. When I put on my glasses, I had nine kills and three deaths. So the results were largely similar. They didn't inhibit my playing, but they didn't make me a better gamer either.
Perhaps it's the power of suggestion, but I generally felt like the contrasts were sharper and my eyes were strained less when I was the MLG Legend glasses. So maybe there is something to Gunnar's extensive patents and claims. If you're a gamer who plays for hours and wants something that is going to strain your eyes less over time, Gunnar's line of glasses may be right up your alley. Similarly, tech journalists, video designers, and others who spend a lot of time in front of the computer seem to be the target audience here, and the most in need of protecting their eyes. Just don't expect the MLG Legend glasses to make you a better player.
Special glasses or not, if you're in my cross-hairs, you're toast.