Monster Trucks Nitro 2, RedLynx's $3 sequel to Monster Trucks Nitro, is one of the better monster truck games out there and a solid racing game to boot. While its graphics and overall depth may not hold the attention of hard-core racing fans, Monster Truck Nitro 2 is no slouch. With four different kinds of hulking monster trucks, a variety of terrain, nitro boosts, and plenty of good old-fashioned demolition, this racing game has enough excitement to make it into your regular rotation.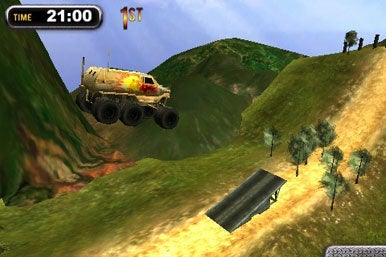 Monster Trucks Nitro 2 is definitely a welcome improvement from its predecessor, which suffered from a high degree of difficulty, predictable courses, and a jerky frame rate. The sequel feels much more polished across the board: its visuals are vivid and smooth, and the music and voice-over announcing are lively and entertaining.
Like the original, the objective of Monster Trucks Nitro 2 is to outrace a "ghost truck" over jumps, cars, and other obstacles in a sprint to the finish line. Right from initial launch, an announcer leads you through a tutorial, teaching you how to control your truck. There is an accelerator at the bottom of the screen, which moves horizontally to adjust the trucks' speed. This "slide method" gives the player greater control of speed in comparison to Monster Truck Nitro's brake-and-pedal system, allowing you to maintain constant speed more effectively. All in all, the setup and game play are very straightforward, making this a great game for kids.
The remaining controls exploit the iPhone's accelerometer, as you control your truck's performance by tilting the device to the left or right or 90 degrees to make the truck flip. The obstacles encountered must be overcome by hitting them at just the right tilt; failing to do so reduces your speed and allows that pesky ghost truck to catch up. For those with a need for speed, nitro bottles appear throughout the race, giving your truck a speed boost. Landing a flip on four wheels will also result in a nitro boost—a trick you'll want to refine as the courses increase in difficulty.
While great visuals can save a game, beauty is only skin deep—the most important factor to the success of a racing game is how well the vehicles handle. In my experience, the game's controls can feel a bit jangly at times; the slightest movement of your device can dramatically affect a truck's actions. Accurately judging how your truck will land post-flip can be more difficult than it should be. Awkward landings are easy to achieve, just as it's easy to catch the underside of your truck on a rock or some other obstacle or catch a roof on an overpass. These indignities—not to mention landing on your back—will slow you down, put you in neutral, and just generally put a kibosh on your aspirations for victory. Though the finicky controls and tricky obstacles can be frustrating, in the end, they just add to the game's appeal.
As to Monster Truck Nitro 2's layout, there are four leagues with four tracks in each league, as well as a bonus league with an extra four tracks, making an even total of 20. (Note that the Version 1.2 update released earlier this week adds a new Adventure League with four new races in addition to iOS 4 compatibility.) Each track has three levels of difficulty, or "sprint" levels. At the start, only the "amateur" league is unlocked, and the remainder of courses have entry fees which you unlock as you amass prize money. Unfortunately, there is no choice of trucks, as each track is locked in to one of four different trucks. Part of the fun of these kinds side-scrolling racing games is being able to choose or customize your truck, but no worries—the four standard trucks have enough variety to placate any resentment you might feel over the limitations.
Overall, Monster Truck Nitro 2's visuals are pleasingly polished and outshine other monster truck racing games. The straightforward interface and smooth layout make it easy to play—and beat. The variety of courses and obstacles go along way toward building—and holding—your interest. What's more, if you want to compete against your friends, there's an online leader board system that compares your scores against national and international opponents. You can create your own leagues with friends, too, if you're into that kind of thing.
So, even though this monster truck derby lacks a multiplayer mode and may have a hard time holding the interest of hardcore racing fans, there's enough in Monster Truck Nitro 2 to make it a winner.
[Rip Empson is a Macworld contributor.]