Add zombies to anything and it's instantly awesome. Zombile Bowling HD, from AtlanticNet, combines the delightful tongue-in-cheek camp of a classic bowling alley with the grumbling, gurgling undead.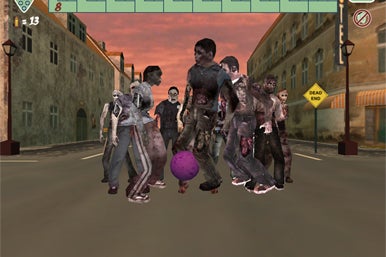 The game includes two modes of gameplay, one for full-on bowling and one for when you're just in the mood for unadulterated zombie carnage. "Bowl" allows you to pick an alley, a ball, and a "bravery" setting with how many bullets you want. Those bullets will come in handy later.
Once things are configured, it's just like any other bowling game, with 10 frames and 10 zombies to knock over. Flick the ball forward or drag it back and release to bowl. Aiming can get a little tricky, but an arrow will help you determine where the ball will hit. You get two shots to take them all out, but if you can't, the real fun begins.
Those bullets you did or didn't pick earlier will come in handy, as any remaining zombies will start ambling toward you, and you have to drag your finger across the screen to aim, then tap the "FIRE!" button to finish them off. This little extra is the main event in the "Shoot" game mode, where you have unlimited ammo to shoot as many waves of 10 brain munchers as possible.
The graphics looks a bit stiff, with the zombies resembling cardboard cutouts, but the detailed bowling alley environments, including "13 Apocalypse Street" and "The Fiend Factory," add a fun dimension to an otherwise simple game. An extra help menu will help you through anything that seems unclear, but Zombie Bowling HD is just as straightforward as it is thoroughly entertaining.
Even the $3 price is a joy. Apparently, killing zombies is fun no matter how you do it.
[Meghann Myers is an editorial intern for Macworld.]