I really believe that the iPhone has changed the way many of us think about photography, and it's certainly not because of the the wimpy camera that came included with the pre-iPhone 4 versions of the device. Rather, it's the abundance of great photo apps that really have made the iPhone a valuable tool for photographers, and a lot of fun for hobbyists.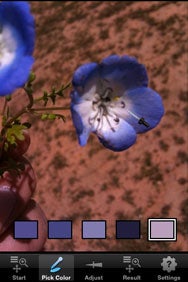 Still, there are some image-editing activities that remain better left in the hands of a more powerful device or more capable software, such as Photoshop on an actual computer.
TouchOfColor, a $1 app from Revolve Works may be one of these cases. The app attempts to isolate colors in photos and alter them, then knock out the remaining colors, thus leaving highlights of color in the places you selected.
After choosing an image from your library or taking one with the iPhone's built-in camera, you pick your colors using a eye-dropper tool on your image. Use the dropper to find the colors you want to keep; the remaining colors get "knocked out." You can also reverse this process using the app's settings. You can then make some minor adjustments to the bleed of colors before viewing your result.
Getting the right look takes a lot of practice and time, and it helps to have a fairly simple image with only a handful of colors, although I found even that to be a challenge. Digging into the settings of the app makes a big difference—it's there where you can change the tone of the background, the tolerance of the colors and the resolution of the finished image. There are also some extensive instructions and tips hiding in there that are worth a look.
Although the concept behind TouchOfColor is an interesting one, the small screen and limited capability of the iPhone make its color-accenting features difficult to implement effectively. TouchOfColor is a fun toy to play with—you can see for yourself with TouchOfColor Free, which limits the color selections at your disposal. But if you are serious about doing some color modifications, might I introduce you to a little image-editing offering from Adobe?
[ Jeff Phillips is an educator, photographer and technology advocate. Find him on his blog or podcast.]