One of the big gripes about iOS's "File Sharing" feature is that it requires users to go through iTunes each time they wish to add or remove files from a device. If you'd like a more direct route for taking your files on-the-go, Macroplant's Phone Disk grants access to your iPhone, iPod Touch, or iPad through everyone's favorite file management utility: the Finder.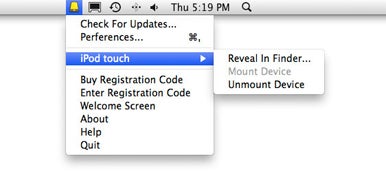 PhoneDisk works by installing a small program on your Mac that detects when an iOS device has been plugged in, and reveals the device's Media folders in the Finder. You can view, add, or remove files from each app's Document Sharing folder. In addition, Books, Photos, Podcasts, Purchases, and Voice Memo recordings are also accessible. If you add photos to iOS's default DCIM folder, Phone Disk will automatically rename them so that you can view them on the device's Camera Roll.
Phone Disk recognizes all iOS devices (including ones that haven't been jailbroken) and supports multiple connections—so you could theoretically move some files directly from your iPhone to your iPad. Access is limited to the Media and Document Sharing folders to prevent major system screw-ups (but as always, it's never a bad idea to let iTunes backup your device, just in case).
PhoneDisk will mount all versions of the iPhone, iPod Touch, and iPad, and requires an Intel Mac running 10.5 and iTunes 8 or later. The program is free until September; a code is available on the developer's Website.