Apple is on a beta roll in recent months. First it announced a brief MobileMe Mail beta in May, and this past Wednesday morning it unveiled a MobileMe Calendar beta. Unlike the Mail beta, however, Apple has made some significant changes under-the-hood, which is causing compatibility issues with at least one third-party app: BusyCal.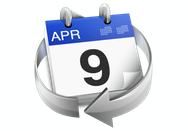 BusyMac's BusyCal is essentially iCal for power users. It offers a number of features that go above and beyond iCal, such as integrated calendar sharing between multiple Macs, more robust Google Calendar sync, recurring to-dos, sticky notes, and more.
Apple's MobileMe Calendar beta is incorporating some of these features—calendar sharing being a headliner. But Apple is also switching its calendar technology to CalDAV, a standard Internet format that makes sharing calendars between multiple users easier (CalDAV is also built into Mac OS X 10.6 Snow Leopard Server). Because of this, BusyCal (and possibly other third-party iCal clients and add-ons) will need an update to work properly with the new MobileMe Calendar technology.
In a post on BusyMac's BusyBlog, the company explains that BusyCal does not yet support CalDAV. While there should be no problems with data loss if users switch over to MobileMe's Calendar beta, their calendars will be read-only in BusyCal.
BusyMac says it's working on an update to support CalDAV in BusyCal, and users can sign up to be notified when a beta is ready for testing. In the meantime, BusyMac provides two options for BusyCal users: if you want to help test the MobileMe Calendar beta, you should switch back to using iCal to edit your calendars (you can set your default calendar app in BusyCal's Advanced preferences pane). If you got into the MobileMe Calendar beta but just can't work without BusyCal's features, you can always downgrade to the pre-beta version of MobileMe Calendar.
For now, BusyMac offers no ETA on when a CalDAV-compatible version of BusyCal will be available.