Editor's Note: The following article is reprinted from Macworld UK. Visit Macworld UK's blog page for the latest Mac news from across the Atlantic.
Apple's new London store, in the heart of Covent Garden, is near completion according to local reports.
Until recently the store has been covered with scaffolding and anonymous white netting, although this has now been replaced by a red velvet "curtain" around the building, positioned just as you come into the famous market square. Covent Garden regularly attracts more than 30 million tourists each year, with a mix of shops, bars, restaurants, theatres, the Royal Opera House and street performers.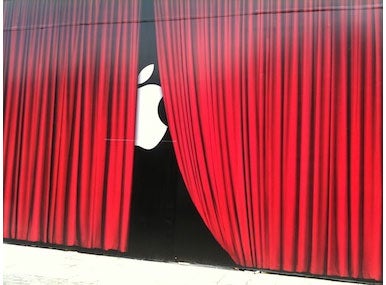 The new Apple Store is likely to be a popular addition to the mix, as slowly the "curtain" opens to reveal an Apple logo and normally "Coming soon." Some local traders have been told the store could be open as early as the end of July. Clearly a tourist attraction, the Covent Garden Apple Store is likely to attract plenty of visitors, some even customers.
Despite those checking email, surfing the net and gadget fiddling at Apple's stores, a report late last year suggested Apple's flagship store on Regent Street was the most profitable for its size in London. Based on industry research, the Apple Store generates £60 million a year in takings or over £2,000 per square foot. The Apple Store, Regent Street Regent covers 28,000 square feet across two floors.
The Evening Standard claimed analysts estimated that in comparison, Harrods was making £751 per square foot, Topshop in Oxford Circus taking about £1,000 per square foot, while rival electrical retailers averaged about £722 per square foot.
In January, Apple chief financial officer Peter Oppenheimer said the company planned on opening between 40 and 50 retail stores during 2010, with half of those openings coming outside of the U.S. This Saturday, Apple will open its second flagship store in China in the heart of Shanghai's financial district, with more stores promised over the next two years.