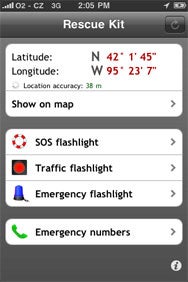 Prague-based Jindrich Sarson has released version 2.0 of Rescue Kit, a mobile app designed to work as a "Swiss Army knife" to help iOS users out of sticky situations and emergencies.
Rescue Kit includes a number of features aimed at assisting users in relaying their location to the authorities in case of need. Chief among them is a database of international number, added with the 2.0 update, for both general and specific emergencies.
These numbers can be dialed directly from the app and used in conjunction with Rescue Kit's geo-location capabilities to relay your position to quickly help emergency crews locate you. In fact, Rescue Kit can even e-mail a convenient link that lets others view your position directly in Google Maps.
In case you need to attract someone else's attention, the app also includes a multi-function flashlight that would make MacGyver proud; it can display an SOS sequence in Morse code, produce a multi-coloured flash or just produce white glow when you need a ready source of light.
Rescue Kit 2.0, which requires an iPod touch, iPhone, or iPad running iOS 3.1 or later and has been tested with iOS 4. It costs $2.