Much of the focus on the gyroscope feature Apple built into the iPhone 4 has fallen on what it means for mobile gaming. But at least one app developer thinks the gyroscope has potential beyond first-person shooters and adventure games.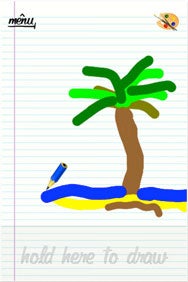 To that end, Candywriter has released an iPhone app called Gyro Draw. The free drawing app taps into the new phone's gyroscope, enabling users to create a sketch just by tilting their phone.
The iPhone 4's three-axis gyroscope measures angular velocity, figuring out pitch, roll, and yaw. Combine that feature with the built-in accelerometer, and the iPhone 4 offers six-axis motion sensing.
With Gyro Draw, users can choose between the accelerometer or the gyroscope for creating a sketch. If you use the accelerometer, you tilt the phone to move a pencil around a page. In gyroscope mode, rotating the device slides a piece of virtual paper about the pencil.
You'll obviously need an iPhone 4 to draw in gyroscope mode, but owners of older phones and iPod touch models can take the app for a test spin using the accelerometer. (On my iPhone 3G, the gyroscope option is grayed out.)
Gyro Draw users can pick between seven types of background paper—printer, graph, legal, and more—and toggle between 16 different pencil colors. The app also offers options to adjust the thickness and the speed at which you draw.
The gyroscope isn't the only iPhone 4-specific feature Gyro Draw looks to exploit. Candywriter says the app is also designed to take advantage of the new phone's higher-resolution Retina Display.
Gyro Draw is currently free, but Candywriter says that's for a limited time. The app is available for download from the App Store and requires iOS 3 or later.