Just when you think feed reader options for the iPhone or iPad can't get any more interesting, a couple of surprise apps arrive to challenge the very foundation of your App Store proclivities.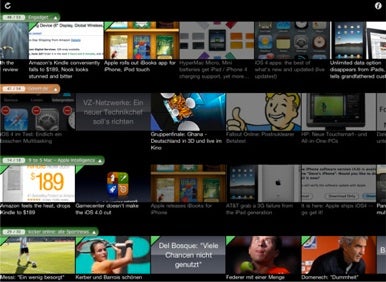 Last month, Pulse News Reader made headlines (hah! get it?) for both its fresh, visual interface and briefly getting pulled from the App Store after the New York Times complained that people might use it to actually read its stories. On Friday, a new visual feed reading contender has entered the newsroom in the form of News Wall for the iPhone and iPad.
Created by independent developer Daniel Wetzel, News Wall takes a visual approach to reading news feeds that is similar to Pulse. It eschews old 'n busted folders and lists of headlines in favor of a dashboard full of photo thumbnails collected from recent posts. Tapping a photo or headline will open the story in a popup window, and stories can be shared by e-mail and Twitter, or saved to Instapaper for reading later. There is no Google Reader integration, however, so you'll have to add feeds by typing or pasting a Website's URL (in most cases you can use the main site's address, not what is typically a messy RSS link).
iOS 4's Fast App Switching is supported, so you can take a phone call or comment on Facebook, then return to browsing or reading in News Wall right where you left off. Whereas the current version of Pulse limits users to 20 feeds, Wetzel says that you can add as many feeds as you want to News Wall.
News Wall is a universal app for iPhone and iPad, and it requires iOS 3.2 or later. Its regular price is $3, but you can get it now for the introductory price of $2.