In true Apple fashion, the Safari browser on both the iPad and iPhone is incredibly minimalistic, leaving off several powerful features that desktop browsers employ. While some may consider that simplicity a feature, others see it as a setback. For power users looking to do more with their mobile browser, Atomic Web Browser from RichTech provides an alternative for the iPhone, iPod touch, and iPad.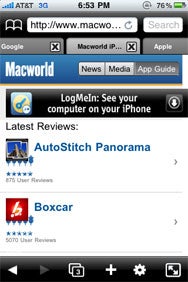 In many respects, Atomic Web Browser represents everything that is the antithesis of Apple's handiwork. The $1 browser app is neither flashy nor beautiful, but it packs powerful features into a truly customizable experience. The app is incredibly flexible and useful, allowing the user to set up advanced privacy controls, choose from several color themes, activate an ad-blocker, customize the search engine bar, view the source of a Webpage, and even have Web servers identify Atomic as another browser, such as Internet Explorer or Firefox. Atomic truly offers a smorgasbord of browser features, so if you're looking for something that Safari doesn't have, it's probably here.
Atomic Web Browser is a hybrid app, optimized to run natively on both the iPhone and the iPad. But both versions are identical, with the same features and the same look-and-feel.
While Atomic Web Browser's interface is nowhere near the quality of what you get from Safari, RichTech does a good job of cleaning the main window up and hiding options within settings and contextual menus, so that you don't feel instantly overwhelmed upon starting the app.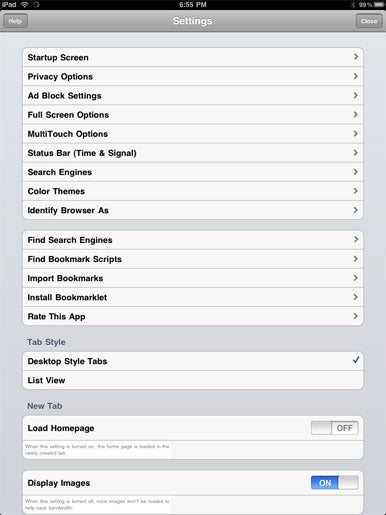 One of Atomic's notable features is its ability to use tabs—incredibly useful when you're browsing on the iPad since you can open links in background tabs. The browser also supports multi-touch gestures, which are turned on by default, so if you don't realize what you are doing, you might cause certain unintended actions to happen. As a whole, multitouch gestures are incredibly useful, and, once you become accustomed to using them, they'll speed up your browsing experience.
When it comes to speed, Atomic is based on the Webkit engine, so it bears many similarities to Safari. Yet, in a few instances, I have noticed Atomic to be noticeably faster than the mobile version Safari. Atomic will cache all tabs that are currently open. Unfortunately, it will trash the cached versions of each tab and force a reload of each page upon app relaunch.
There is a free lite version of Atomic Web Browser, though it comes with some limitations on the number of tabs you can open, doesn't support multitouch gestures, and doesn't offer password protection or a bookmark bar. The lite version is a great way to get a handle on the way that Atomic Web Browser works, but if you're looking to truly harness the power of Atomic, buy the full version.
The beauty of Atomic Web Browser leaves much to be desired, but the brawn is present in full-force. If you're looking to truly empower your mobile browsing experience, or have a second browser handy for odd tasks, there's no better browser than Atomic.
[ John Fuller is a freelance designer and writer from Texas.]