There's a common misconception in the world of digital cameras—let's call it the Megapixel Myth—that more megapixels mean better photos. 7.0 Megapixel Camera + Zoom from CrowdCafé promises better results from your iPhone camera by allowing you to take higher resolution photos. If this sounds too good to be true, it essentially is, so be forewarned.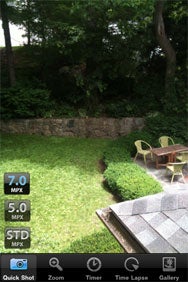 The original iPhone and iPhone 3G have 2.0 megapixel cameras; the iPhone 3GS has a 3.2 megapixel camera, while the iPhone 4 ships with a rear-facing camera that boasts 5 megapixels. Megapixels determine the size of the image that the camera outputs, but not necessarily the quality. 7.0 Megapixel Camera uses an algorithm to create larger files from your iPhone camera, but it doesn't appear to create better looking images as promised.
When you launch 7.0 Megapixel camera, you're presented with a standard camera viewfinder, with a menu bar along the bottom. You have the option to take a photo with the standard setting, 5 megapixels, or 7 megapixels. To take a photo, you tap anywhere on the screen, not on a shutter release button. This can be helpful in some situations, but if you're using an iPhone 3GS or iPhone 4, it will override the tap-to-focus functionality, which can be frustrating. The app also includes a 5x digital zoom, Timer, and Time Lapse features which can all be activated on the bottom menu bar.
CrowdCafé notes that, due to the small size of the iPhone screen, you may not be able to see the difference between a standard and 7.0 Megapixel photo when viewed on the phone; the developer advises you to review on your computer. I reviewed sample photos taken at every setting on a 27-inch iMac, and while the 7.0 Megapixel photos were larger, they did not appear to be of any obvious better quality.
7.0 Megapixel camera adds some helpful extra features beyond the enhanced size. It's priced low, so if you're curious to try it, there is some extra value. Just don't fall for the myth that your photos will suddenly look better because they're bigger.
[Macworld contributor Beau Colburn lives in Boston and posts iPhone photos on his site Snap different.]