Having an iPhone or iPod touch at the ready means you'll never have to wonder if you're running low on tomato paste ever again. That seems to be the idea behind In My Pantry, a productivity app from developer Point & Code that aims to turn you into an unparalleled grocery shopping guru.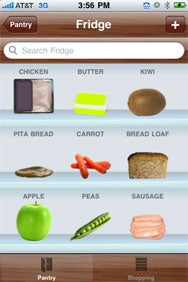 The first time you launch In My Pantry, the home screen is divided into a fridge and a freezer. Tap on either to select from around 300 included "blueprints"—basically, profiles for food items—to stock them accordingly. The app doesn't include every item under the sun—you won't find ice cream, for example, but don't freak out. You can create your own blueprints, customizing them down to the label color or simply taking a photo on your iPhone for illustration.
At first, it appears that refrigeration is your only storage option, but under the settings tab, you can create drawers for dry goods like pasta or non-food items like cleaning supplies.
From there, you can create a shopping list, which In My Pantry will automatically organize by grocery aisle. When you get home from the store, you not only put away your actual groceries, but you also check everything off in the app, which puts your purchases away in your virtual kitchen.
The appeal of In My Pantry depends on how much energy you're willing to put into this organizational method. Personally, I keep a grocery list on my iPhone, but I'm not sure I'd have the presence of mind to not only stock my mobile "kitchen," but to pop open the app and account for every last cup of yogurt or kiwi I eat.
I suppose you could skip that feature and only update In My Pantry's shopping list, but then you'd have to remember you're out of milk the old fashioned way. This is a common trade-off for productivity apps: Instead of using your brain space to keep track of the refrigerator's contents, you'll use it remembering to update In My Pantry.
U.S. users should note that In My Pantry comes from overseas, so it contains blueprints for things such as Cheshire, cress, and four kinds of "crisps." That would be a crumbly white cheese, a leafy vegetable, and potato chips. You can delete these blueprints if you don't find them regionally appropriate.
In My Pantry's $6 price tag also merits a mention. It's steep for apps in general, though not out of line among productivity boosters. At any rate, In My Pantry is definitely powerful, if you decide that the energy it takes to keep the app updated is less than the time you spend writing your grocery list.
[Meghann Myers is an editorial intern at Macworld.]