Skelanimals Dance Party is Tap Tap Revenge for the pre-teen girl crowd—the game features a new interface for the tap-rhythm genre, and comes complete with adorable zombie Skelanimals. Developed by Flying Penguin, the game has a simple interface and features 10 faux-punk pop songs with lyrics like "Your party is a zero/Your party needs a hero," and "Why you playing that song/Let me get my iPhone." Basically, it's perfect if you're a 14-year-old scenester.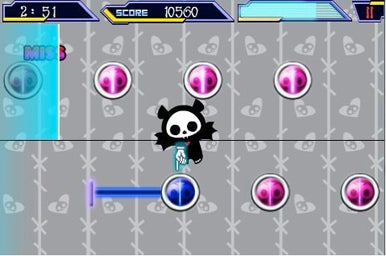 Skelanimals Dance Party is your basic tap-rhythm game, with a new (but not terribly exciting) interface. The game's screen is divided into a top portion and a bottom portion. The beat bar, or the line that moves across the screen to let you know where the beat is at, moves clockwise around the screen (left to right on the top section and then right to left on the bottom section). The beats are little circles with slashes through them, so you know when to tap.
The interface is fairly simple and easy to get used to—which is good, because the beats are not always synced to the music. I often found that, about halfway through the song, the beats on the screen would de-sync with the beats in the background. This, needless to say, threw me off my game a little—but luckily the interface is simple enough that it's not too much of an issue.
There are two methods of play—regular play, where missed notes will cost you life, and "party" mode, where missed notes will not cost you life. Regular play also has two levels of difficulty—"Normal" and "Expert," though I found little difference between the two.
Skelanimals Dance Party features a total of ten plucky alternative/punk songs, including "Keep the Party Alive" by Family Force 5 and "Robot Lover" by Ultraviolet Sound. None of the bands/songs were familiar to me, though "Keep the Party Alive" did grow on me. To unlock songs and Skelanimals, you must complete levels.
The Skelanimals are, well, adorable little dead animals portrayed as skeletons with red hearts. With each level you complete, you'll unlock a new Skelanimal in "The Graveyard." In "The Graveyard" you can read the profiles of each Skelanimal, including the strangely morbid tales of how they became Skelanimals.
Overall, Skelanimals Dance Party is a cute, simple tap-rhythm game. It's not the most well implemented tap-rhythm game I've seen—especially since the songs have a tendency to de-sync with the onscreen beats—but the Skelanimals are cute (albeit dead). This is a great game for the Skelanimal fan—but if you're looking for a good tap-rhythm game, you should probably pass.
[Sarah Jacobsson is a contributor to Macworld.]