LandFormer, produced by Canadian indie game developer Streaming Colour Studio, starts off as a deceptively simple game, but becomes challenging in a hurry once you go through the first few levels. The premise is quaint enough: you play on a 5×5 isometric grid of platforms that can be raised or lowered by up to two steps in a variety of patterns. A level typically starts with the platforms in a particular configuration, and your job is to lower and raise them strategically until they are all level.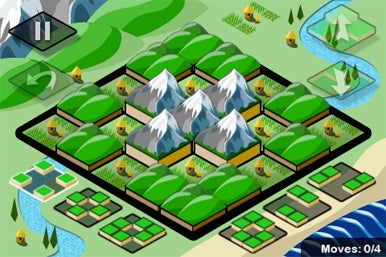 But there are rules you need to worry about; the challenge in the game comes from the fact that you can only alter the configuration of the grid by moving platforms in specific patterns, like the four corners of a square or the four cardinal points of an imaginary compass. Therefore, in order to successfully complete a level in the prescribed number of moves, you have to carefully consider all the options at your disposal and essentially reverse-engineer the steps that caused the platform to end up in the start-of-level configuration.
LandFormer may not have breathtaking 3-D graphics, or Hollywood-style cinematic sequences, but it is one of those rare games that combine a simple and intuitive set of rules with a nearly infinite set of playable scenarios, making for an addictive and highly entertaining gaming experience. The game includes fifty levels that can be played for free, with additional levels and "themes" that can be purchased for an additional fee; currently, the only available theme turns the game grid into a disco platform—which somehow makes the latter levels even more fun play. This is one of those rare free games that is worth downloading and will stay on your mobile device for a long, long time.
[Marco Tabini is a frequent contributor to Macworld.]