Editor's note: The following review is part of Macworld's GemFest 2010 series. Every day from mid July until the end of August, the Macworld staff will use the Mac Gems blog to briefly cover a favorite free or low-cost program. Visit the Mac Gems homepage for a list of past Mac Gems.
Professional speakers often use a teleprompter to display their prepared remarks, helping the speaker appear prepared and relaxed while avoiding the need to shuffle through notecards or rely on cue cards. While a professional teleprompting system can be quite expensive, AquaPrompt brings many of the same features to your Mac's screen for a relatively paltry price.
To use AquaPrompt, you just type or paste your content (text or text with images) into the AquaPrompt window and click the Prompt button. Then, using the mouse cursor or the arrow keys, you choose your text size and scroll rate—you can adjust the rate, pause scrolling, or even scroll backwards at any time, and onscreen buttons let you quickly jump to the top or bottom of your content. Scrolling is notably smooth, and text is easy to read (depending, of course, on your choice of font). You can also scroll using your mouse or trackpad.
AquaPrompt provides a number of options in its Preferences window. For example, you can choose your preferred background and text colors, and you can adjust the scrolling-control sensitivity. A mirroring option—horizontal or vertical—lets you use your computer with a glass-reflection system, and you can choose to use AquaPrompt in either window or full-screen model. When using full-screen mode with multiple displays, you can choose which display gets the teleprompter—you can even use full-screen mode on one display while still working in other programs on the other screen. (Another full-screen feature is that AquaPrompt disables OS X's Command+Tab application switcher so you don't accidentally bring another program in front of your prompter.)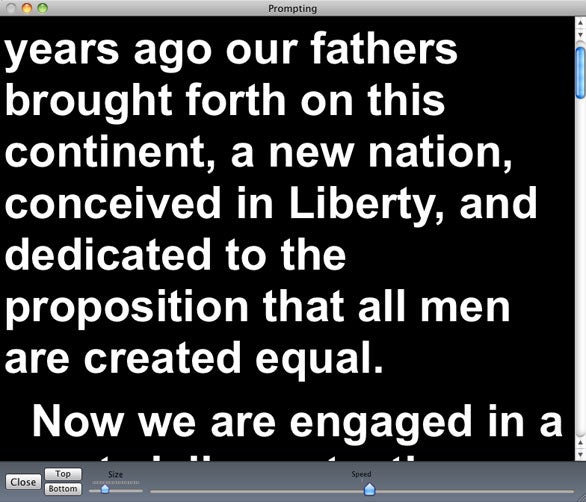 If you haven't saved your content elsewhere, AquaPrompt lets you save it as a .rtfd file.
I occasionally experienced an issue where the reverse-scroll feature didn't work as expected, and I wish AquaPrompt provided smaller scroll-speed increments when using the keyboard. But overall, AquaPrompt is elegant and effective.
Want to stay up to date with the latest Gems? Sign up for the Mac Gems newsletter for a weekly e-mail summary of Gems reviews sent directly to your Inbox.
Our 186-page Mac Gems Superguide is a veritable greatest hits of Mac Gems. It's available as a PDF download, PDF on CD-ROM, or as a printed book. Learn more about the Mac Gems Superguide.
[Dan Frakes is a Macworld senior editor.]