Apple opened a retail store in Shanghai on Saturday, the company's second in China.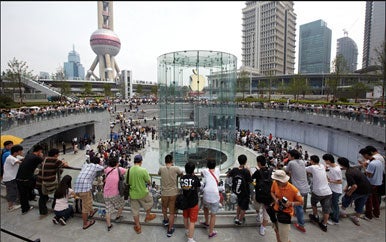 Pictures of the opening posted on Apple's Website showed crowds of customers and onlookers lined up outside the Shanghai store's cylindrical glass entrance, where a spiral staircase leads down to the store below—not unlike Apple's flagship store on Fifth Avenue in New York.
The Shanghai store is located in the Pudong financial district, on the eastern banks of the Huangpu River, which runs through the heart of the city. A symbol of the explosive growth seen in Shanghai over the last 20 years, Pudong is home to many of the city's newest and biggest skycrapers, including the Shanghai World Financial Center—the tallest building in China.
The Shanghai store is Apple's second in China. The first, located in Beijing, was opened in 2008 just before the Summer Olympic Games began.
China remains a relatively small market for Apple compared to the U.S., Europe or Japan, but the company is expanding.
Last year, Apple signed a deal with operator China Unicom to sell the iPhone in China. And the company reportedly has plans to open a total of 20 retail stores in China by the end of next year, rising to 25 stores by 2012.
An Apple spokeswoman in Hong Kong did not immediately return a call seeking comment on the company's retail plans in China.